Surveillance Tape Shows Trayvon Martin At 7-11; Officials Say He Had Pot In System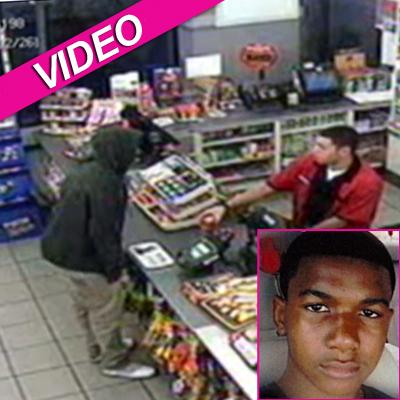 New surveillance video shows 17-year-old Trayvon Martin at a 7-Eleven purchasing Skittles and an iced tea prior to being killed by George Zimmerman, the neighborhood watch volunteer charged with second-degree murder in the February 26 shooting death of the teen.
In related news, we've learned that Martin tested positive for THC, an ingredient in marijuana, in his system when he died, according to reports from coroners citing blood and urine tests.
Article continues below advertisement
Zimmerman was no more than 18 inches away from Martin when he fired the fatal shot, coroners said in the just-released report.
Zimmerman, 28, is currently at an undisclosed location following his release on bail last month. He's pleaded not guilty to the charges; if convicted, he could face up to life in prison.
Watch the video on RadarOnline.com
The case has caused national controversy, as Zimmerman was not arrested for 44 days following the shooting.
Stay with RadarOnline.com for more on this ongoing story.