Exclusive
Sportscaster Campaigning To Be First Black Bachelor 'Had Positive Experience With The Show,' Reacts To Racial Lawsuit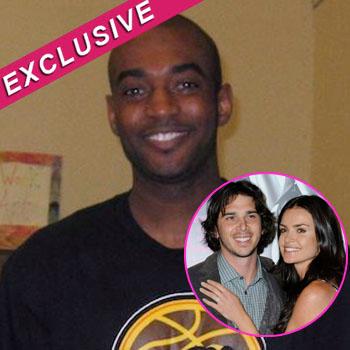 Before a lawsuit was filed this week, claiming the Bachelor and Bachelorette series are not racially diverse, a campaign had been launched to have a sportscaster from Portland cast as the first black Bachelor, and RadarOnline.com exclusively spoke with the wannabe reality star about the recent scandal, and his dating dreams.
Lamar Hurd, 28, of Portland, Oregon, became a reluctant applicant for the ABC dating show when his assistant came up with the idea that he should be try out. "I said they have never had a black Bachelor so I didn't think it would happen," he told RadarOnline.com in an exclusive interview, but the plan rapidly escalated with supporters creating Facebook and Twitter pages) garnering thousands of followers.
Article continues below advertisement
"I had nothing to do with any of the campaigns!" said the modest Houston, Texas, native who runs a youth basketball organization.
Now Hurd has been inadvertently catapulted into the eye of a storm after a lawsuit was filed by a group of Nashville residents led by Nathaniel Claybrooks and Christopher Johnson against the ABC series claiming it has violated civil rights laws.
As RadarOnline.com previously reported, Johnson says he filled out an application to be on the show and showed up at a casting call, where he was allegedly stopped immediately by an employee of the show and asked why he was there. The employee took his application materials, according to the complaint and said he'd pass it on but he was never contacted.
Hurd diplomatically declined to take sides in the issue, telling RadarOnline.com, "I don't know what is true and what is not, I don't want to speculate without knowing all the facts, and I personally don't care too. I don't know if its right that they are suing, that is up to them and how they feel.
"My experience is all I can talk about, and it has been very positive. If these guys don't choose me then I won't consider it racism, it just means that I didn't get the part," he explained.
Article continues below advertisement
When asked his thoughts on the lack of African-American contestants, he replied: "I don't think it is bad that it has been predominantly white. It is their show and if that is what they want it is their right to decide.
"If you look at BET they have predominantly black casts, and that is their choice.
"In my past I may have been a victim of racism before but I never noticed it, I always just try to focus on whatever is positive in my life," Hurd went on to say.
Despite bidding to be the first black Bachelor, "I don't want anyone to think that I am playing the race card, anyone who knows me will know I never do that. If I don't get picked you would will never hear any complaints and just a lot of thanks for everyone who has supported me," explained Lamar.
Instead of focusing on the color of his skin, the avid basketball player wants the producers to notice all of his other qualities that would make him the perfect choice for leading man.
Article continues below advertisement
"I know this show likes entertainment and I would be entertainment. I would go out there and show kids specifically, who I am a mentor and role model to, how you go about dating a girl," revealed the charming Southern gentlemen.
"I would treat them like ladies, I would do it my own way. I feel like it is my responsibility to show how a woman should be treated. Dating doesn't have to be about skinny-dipping and drinking champagne in hot tubs," said Lamar, who was an avid watcher of the Bachelor from 2008 to 2010. "I probably watched more than most guys!" he admitted.
EXCLUSIVE PHOTOS: Bachelor Contestant's Face Bloodied Up
Having been single most of the time since he moved to Portland in 2002 to attend Oregon State University, Hurd is now looking for love – on-air or off.
"I get that a lot of these (Bachelor) relationships don't work out, but I haven't dated anyone recently, it's not worked out for me here so I'm totally open to see what happens."
As for what kind of woman catches his eye and his heart. "I don't have a type, its about the person within.
Article continues below advertisement
EXCLUSIVE BABY PHOTOS: Bachelor Pad's Kiptyn & Tenley -- Before They Were Famous
"I want someone who shares similar spiritual views as me, who is loving and kind, and sharing and caring. I love intelligent women. I would like to meet someone who is strong and confident, and has motherly qualities because kids are really important to me."
Along with his 2000-plus Twitter followers, Lamar already has one member of the Bachelor family on his side as former contestant Elizabeth Kitt is one of his biggest advocates!
"I really hope Lamar gets picked to be the first black Bachelor," Kitt told RadarOnline.com. "I am a strong supporter of diversity and for everyone to get a fair shot. Good luck Lamar!
As for the lawsuit against the show, Kitt said: "I do not think the Bachelor should be sued for racism simply because there has never been a black Bachelor or Bachelorette. I assume that is because the demographic of the majority of applicants are probably white, based on the viewing audience," she explained.
Article continues below advertisement
"Do I think the show should be more diverse? Yes! That's why I hope Lamar gets his shot at love on the Bachelor."
In an e-mail statement to RadarOnline.com, a spokesperson for ABC reacted to the lawsuit, stating: "This complaint is baseless and without merit. In fact, we have had various participants of color throughout the series' history, and the producers have been consistently — and publicly — vocal about seeking diverse candidates for both programs.