Courtney Robertson And Ben Flajnik Attend Bridal Show; But In 'No Rush' To Get Married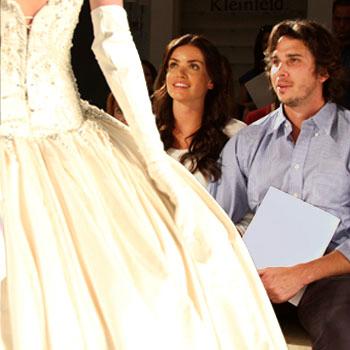 Article continues below advertisement
"Slowly but surely is kind of what we're preaching here. No rush," the 29-year-old winemaker told Access Hollywood. "It's working out nice, kind of normal. We're getting back to normal life."
The pair has certainly had their ups and downs since starring on the ABC dating show.
Courtney, 28, was far from a fan favourite and her rude behavior and comments almost cost her her fiancé when he briefly broke up with her after choosing her to be his bride.
But they have managed to work things out and insist they are stronger than ever.
"I feel like a lot of these couples haven't worked out because of the pressure to set a date," he told the entertainment show. "We're working on our own timeline here. We don't have ABC or anyone saying, 'You're getting married.' That's not how it works."
With their arms wrapped around each other and with her engagement ring clearly on display the reality TV stars looked picture perfect.
Article continues below advertisement