President Obama Gets 'Caught' In Mini Spider-Man's Web In Playful Photo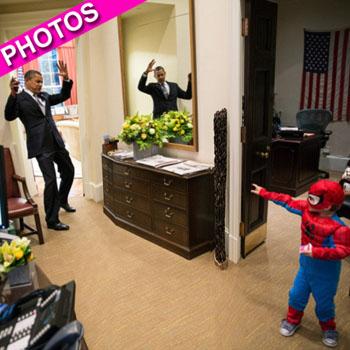 It's a playful side of President Barack Obama we rarely get to see, especially in these troubling times.
In a new photo, posted Wednesday by the president's Twitter and Facebook counts, the commander-in-chief expresses his surprise at being caught in a tangled imaginary web by a mini Spider-Man, presumed to be the son of a White House staffer.
In other candid shots -- also taken by White House photographer Pete Souza -- we see other candid images of the president, including shots of him playing basketball, fishing and jokingly putting his foot on a scale while another man weighs himself.
MORE ON:
hollywood happenings
Article continues below advertisement