David Petraeus Isn't The Only Cheater In Washington - Eight Other Political Sex Scandals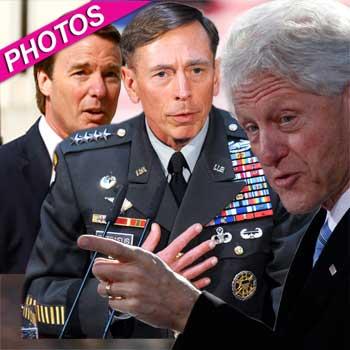 CIA Director David Petraeus' fall from power in grace in Washington puts him in exalted company.
Now RadarOnline.com is taking a look at eight other recent famous political cheaters.
A surprising number of candidates involved in the last two presidential campaigns have been involved in extramarital affairs.
John Edwards cheated on his wife, Elizabeth, while she was dying from cancer and fathered a child by his mistress Rielle Hunter.
Article continues below advertisement
John McCain, who lost his presidential bid in 2008 to Barack Obama, has admitted to cheating on his first wife. 2012 candidate Newt Gingrich has confessed to cheating on his first and second wives!
Los Angeles Mayor Antonio Villaraigosa, one of the most high-profile mayors in the country and frequently mentioned as a possible candidate for higher office, had an affair with a local TV reporter that resulted in the end of his marriage in 2007.
Numerous governors have fallen into cheating ways.
South Carolina's Mark Sanford left his wife for his South American "soulmate," New Jersey governor Jim Greevey came out as gay and tearfully confessed to an affair with another man, and New York governor Mark Spitzer was caught in a prostitution scandal.
But no one in recent years quite tops former President Bill Clinton, who insisted to the entire country he didn't "have sex with that woman, Ms. Lewinsky," only to later admit that his relationship with the White House intern had been sexual.