One Lucky Clucker! President Barack Obama And His Girls Pardon Cobbler The Turkey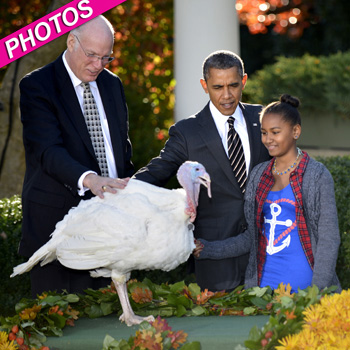 By Leah Ornstein - RadarOnline.com Features Editor
Cobbler the turkey certainly has something to be gobble gobble grateful for this Thanksgiving!
On the eve of the national holiday, recently re-elected President Barack Obama and his adorable daughters saved one very lucky turkey's life – and RadarOnline.com has the photos.
"They say that life is all about second chances, and this November I could not agree more," Obama joked about his hard fought re-election victory. "So in the spirit of the season, I have one more gift to give and it goes to a pair of turkeys."
Article continues below advertisement
Standing alongside National Turkey Federation Chairman Steve Willardsen, the President and his two girls, Sasha, 11, and Malia, 14, pardoned a 19-week-old 40-pound turkey named Cobbler as part of the annual Thanksgiving tradition in the Rose Garden of the White House.
"The only cobbler anyone's eating this Thanksgiving will come with a side of ice cream," the president quipped during the ceremony.
An alternate National Thanksgiving Turkey bird, Gobbler, will also avoid being served on a platter this holiday season.
"If for some reason Cobbler cannot fulfill his duties as the official White House Turkey, Gobbler will be waiting in the wings," he continued.
Cobbler and Gobbler, who quite clearly lucked out by being chosen as the honored birds, will move into a custom-made enclosure at Mount Vernon's livestock facility in Virginia after spending the holidays at George Washington's Mount Vernon Estate and Gardens.