105 LB Woman Wins Turkey Eating Contest, Gobbles Up 5 LB Bird In 10 Minutes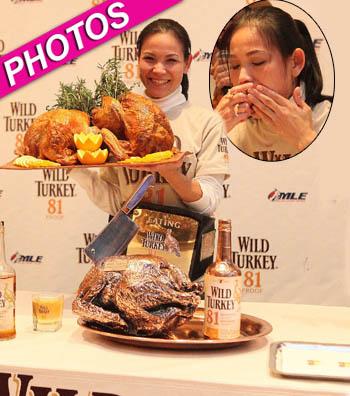 How much turkey can one person consume without turning into a Butterball? A lot, apparently!
It was a big day for competitive eater Sonya "The Black Widow" Thomas, who was crowned the 2011 Wild Turkey 81 Eating World Champion on Tuesday after gobbling up a 5.25 pound bird in 10 minutes, and RadarOnline.com has photos of her amazing feat.
The 105-pound, 42-year-old competitive eater, who is the world champion of several other categories including cheesecake, crawfish, oysters and jalapenos, and is ranked the No. 4 eater in the world, beat out several men for the $1,581 cash prize – including one who was four times her size.
Article continues below advertisement