Angelina Jolie's '600 Calorie A Day Diet' Is A 'Prescription For Disaster,' Says Expert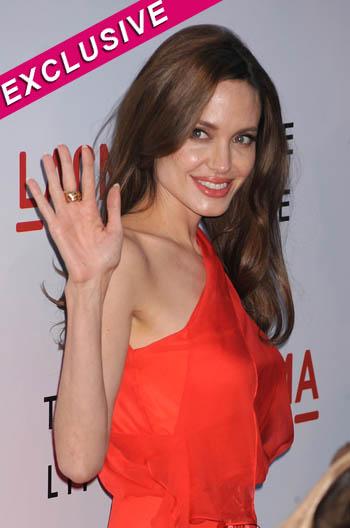 Angelina Jolie's shockingly thin body has caused alarm and as a new report claims the A-list actress is eating just 600 calories a day, RadarOnline.com has exclusively learned that she should be eating more tham twice that much.
The 36-year-old mother of six was snapped in Vietnam this week with alarmingly skinny arms wearing a red dress that showed off the visible bones on her spine.
Article continues below advertisement
Grazia magazine reported that she is sometimes subsisting on just 600 calories a day. "Angelina has been known to start her day with little more than a spoonful of coconut oil and a handful of cereal," a source told the magazine.
"The worrying thing is that she is so busy, she often forgets to eat. Sometimes she'll skip lunch altogether or will just grab a few almonds and some gummy bears while she's on the go, or will have a protein-based shake rather than anything more substantial."
Jolie, who travels around the world with her hunky beau Brad Pitt and their brood will skimp on her last meal of the day too claims the magazine.
"Then dinner could be something like a lean steak and a glass of red wine."
If Angelina is restricting her calories to such an extreme, she would be facing some serious health problems.
"This is a starvation diet and a prescription for disaster," said Jackie Keller, Founding Director of NutriFit in Los Angeles.
Article continues below advertisement
"If this is true, then it is insufficient food to maintain her overall weight as at a certain level your body goes into self-preservation mode and begins burning lean muscle tissue for fuel," she explained.
"Anything under 800 calories a day is a starvation diet and would put her in this zone."
Angelina was on the NutriFit delivery meal program in 2005 when she was filming Mr. & Mrs. Smith and Keller revealed to RadarOnline.com that the Oscar-winning actress had a hearty, healthy appetite back then.
"She ate steak, salmon, vegetables and healthy proteins," revealed Keller. "She was on about 1,500 calories a day. It was a maintenance plan, not a weight loss plan," and the nutritionist recommends that she goes back to eating like that again now.
"For her height of 5'8", a healthy weight is about 130 pounds, so she should be on 1,500 to 1,600 calories, and that's without taking into account the additional calories she needs for exercise or taking care of six children," explains Keller.
Article continues below advertisement
After the 2007 death of her beloved mother Marcheline, Angie dropped weight and spoke out about her increasingly skinny frame.
"I have always been lean, and this year I lost my mom and I've gone through a lot. Instead of people saying I look like a person dealing with something emotionally, they assume it's because I want to fit into skinny jeans."
Do you think Angelina is too skinny? Tell us in comments.