Angelina Jolie Makes Secret Trip To Libya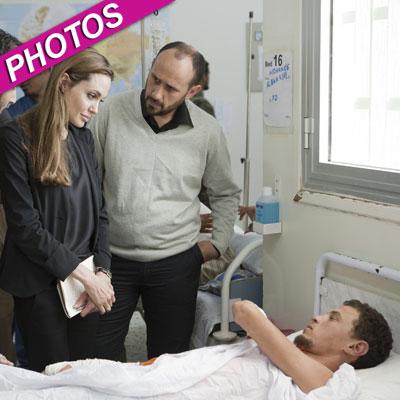 Angelina Jolie began a secret two-day trip to Libya Tuesday for meetings with organizations aimed at expanding upon the efforts to reach out to Libyans in Misrata and Tripoli.
The Mr. & Mrs. Smith star, an ambassador for the UN's refugee agency, said in a statement, "I have come to Libya for a variety of reasons, to see a country in transition at every level and to witness efforts to fully realize the promise of the Arab Spring.
Article continues below advertisement
"The country faces a host of challenges, including internally displaced people, refugees, rule of law, security, sanitation, education, health and other humanitarian needs. All of these pieces must be delivered and coordinated properly in an environment of reconciliation and justice."
Jolie, 36, said she will be meeting with "officials from all sides, but above all, listening to the local people in the street.
"I am here to express solidarity with them," she said. "It is the work of rebuilding and recovery that will determine Libya's future."
Jolie and partner Brad Pitt, two of Hollywood's most noted humanitarians, recently sent $340,000 to Humanitarian Initiative Just Relief Aid to help the Somali people.
RELATED STORIES:
Brad Pitt's World War Z Set Raided By Hungarian Anti-Terrorism Unit