Brad Pitt And Angelina Jolie Tour Infamous 'Tiger Cages' Prison In Vietnam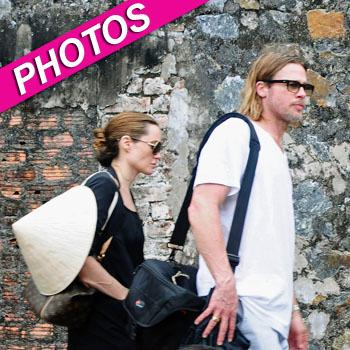 Brad and Angie left the kids at their hotel when they toured one of the most infamous sites from the Vietnam War.
The couple were on Con Son Island, the largest of the Con Dao Islands, off the southeast coast of Vietnam, and wanted to see the prison known as the tiger cages.
The prison was used by the South Vietnamese government during the 20 years Vietnam was separated and fighting a civil war, as a concentration camp for political dissidents. It was closed following the fall of Saigon in 1975.
Article continues below advertisement
As RadarOnline.com previously reported, Brad, Angie and all the kids arrived at the Con Dao Airport on Friday.
Their son Pax was born in Vietnam, and as Angelina said, "we owed him a visit."
The Con Dao Islands are now primarily a national park and have a growing eco-tourism business, with lots for the kids to see and do.
But visiting the historic prison was definitely a grown-ups only activity.
RELATED STORIES: