Michelle Obama Celebrates 49th Birthday With Bangin' New 'Do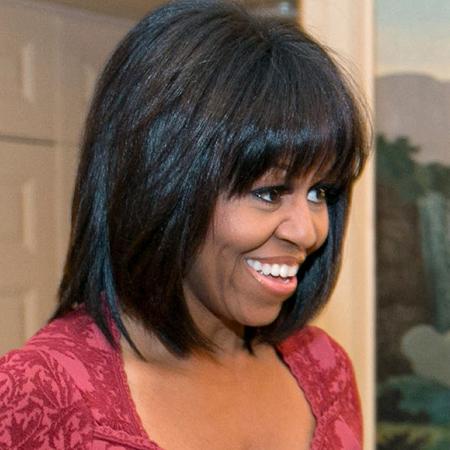 Just says before her husband's second inauguration, Michelle Obama celebrated her 49th birthday Thursday by showing off her new hairdo that has her sporting bangs.
In only her second tweet with her new handle, FLOTUS, the First Lady's office tweeted a photo of her meeting in the Diplomatic Reception Room at the White House with David Hall, a citizen co-chair for Monday's inauguration ceremonies. Instantly, Twitter was abuzz with compliments of her new look that other notables, including Kim Kardashian and Kate Middleton have recently sported.
Article continues below advertisement
Mrs. Obama ended her birthday with a special dinner that lasted a little more than three hours at Café Milano in Georgetown, with her husband and some friends.
The White House did not provide details of her birthday celebration.
BTW: The First lady's old Twitter name - "Michelle Obama" - was a campaign account and is now managed by the Democratic National Committee.
FLOTUS was created by the first lady's office, and will chronicle some of her activities. Mrs. Obama will sign her own tweets with the initials "mo."