Exclusive
Hair Today, Gone Tomorrow! Justin Timberlake Tells Jessica Biel To Lose Her Bangs!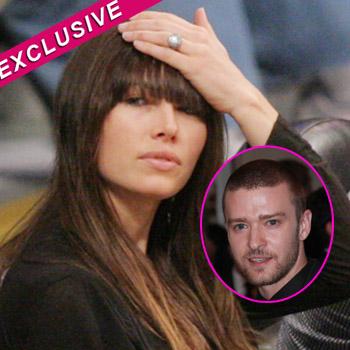 Article continues below advertisement
"He prefers it when Jessica has her hair side-parted, with a little bit of wave, or when she has it simply tied back.
"She's very conscious of her forehead, which she thinks is a little big, despite Justin's reassurances that there's nothing wrong with her.
"Justin has begged Jessica to change it back to how he likes it because he thinks the bangs look boyish.
"She's always asking him to grow his hair a little, Jessica detests it when Justin shaves his head, so he's had to compromise at times for her.
"There's no way he'd be happy if she wore her hair like that for their wedding, and she certainly won't let him cut his hair short either," the source revealed.
Jessica told the Chicago Sun-Times on July 30 that she and Justin hadn't even began planning their nuptials yet.
"I'm just enjoying being engaged," she revealed. "I do feel like there is a lot of time and nothing needs to be rushed. But being engaged is just absolutely amazing. You're in this romantic, ahhhhh, breathless moment that I'm just trying to extend as long as possible."
Article continues below advertisement
As RadarOnline.com previously reported, Jessica isn't embarrassed to admit that her husband-to-be, has a better sense of style than she does!
The 30-year-old actress revealed in the August 2012 InStyle that she isn't quite as style savvy as her man – and that he even picks out her outfits.
"I'll be honest: He has better taste than I do," she admits. "When I walk out of the closet after getting dressed in the morning, I'll go like this turns palms upward as if to say, 'Well?'. And he goes like this shakes head no. Then he picks again. It's hilarious."