Jessica Biel Reveals The Secrets To Her Hot Body And Flawless Face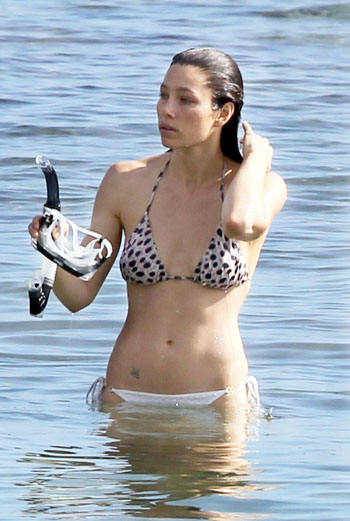 Article continues below advertisement
"Some days I'll sprint on the treadmill; other days I'll hike with the dogs. I also fit in yoga classes and some swimming."
"My trainer, Jason Walsh, works with athletes, so we do a lot of football drills, like pulling big sleds and waving heavy ropes," she adds. "It's intense cardiovascular training but really fun."
Check out Equinox's football inspired workout, similar to Jessica's, by clicking here.
When it comes to her diet, Jessica maintains that eating "clean" is the way to go.
"When I'm working, I try to keep my diet really clean: loads of vegetables, lots of quinoa and grain protein, and some occasional animal protein," says the star, who is getting ready to wed Justin Timberlake.
"Fermented veggies and probiotics are also great for my skin and digestion. You can also buy shredded fermented vegetables at a health-food store and sprinkle them over a salad or even eggs in the morning. I also drink green tea, and I slip in veggies like beets and zucchini into cakes and fudge."