The Player's Club! Reggie Bush Gets Trained By Smokin' Hot Fitness Instructor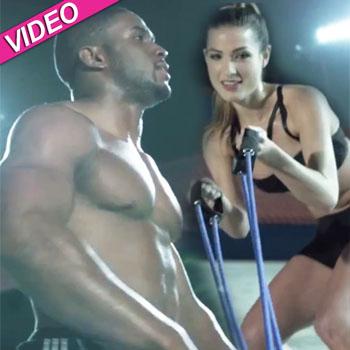 Article continues below advertisement
The workout, which was designed by Lisa Wheeler and hits each of the five foundational movements upon which the class is based: push, pull, squat/lunge, rotate and bend, definitely has the NFL stud breaking a sweat!
"The beauty of the program is that it's scalable," says Wheeler, "Knowing Reggie was an elite athlete, we seriously ramped it up — not one notch, but 10. He's pulling a tackling sled with a trainer on it, but in class we'd do partner rows with bands — same movement principle, different movement."
"During the season it's all about drills," he says, "Etc is more like what I do in the off season when I'm staying in shape. It's part of my job. It's who I am. It's what I like to do."
For more information, visit Q by Equinox.