Exclusive
Vicki Gunvalson's Ex Business Partner Files NEW Fraud Lawsuit Against Her & Boyfriend Brooks Ayers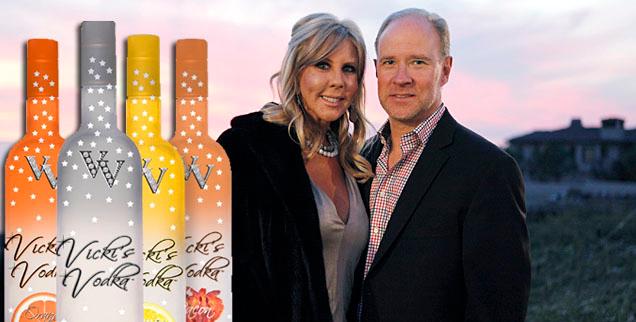 She'll be in need of a stiff drink after reading this.
Outspoken Real Housewives of Orange County star Vicki Gunvalson is facing, yet again, a multi-million dollar lawsuit over her contentious "Vicki's Vodka" product after her disgruntled business partner filed a new lawsuit in Nevada, RadarOnline.com has exclusively learned.
Robert Williamson III, a professional poker player who went into business with the Bravo reality star in 2012 to produce distilled flavored vodka, filed the suit against the 51-year-old Bravo star on Friday, alleging she breached a settlement agreement the pair had hatched to end his initial litigation against her.
Article continues below advertisement
RadarOnline.com broke the story: Gunvalson gifted 16.67 percent of the Vicki's Vodka business to Ayers without the knowledge of her business partner Williamson, it's claimed, who then sold it back to Williamson for $50 thousand because he supposedly eeded the money for unpaid IRS and child support obligations.
Despite the deal, Gunvalson later "demanded" ownership be returned to a 50-50 split between them, it's alleged.
Article continues below advertisement
In his latest lawsuit, Williamson restated much of his previous position but revealed that Gunvalson had approached him in July and indicated that she wanted to settle the litigation and move forward with their business plans.
"During the weekend of July 12, Vicki and RW III met, without counsel, for extensive meetings and negotiations," the lawsuit said.
A settlement agreement was reached and the Bravolebrity signed it on July 15.
"Following the execution of the agreement, RW III caused Vicki to be dismissed without prejudice for certain pending litigation pursuant to the settlement agreement," the lawsuit stated.
But, "almost immediately following the dismissal of Vicki from the federal litigation, Vicki disregarded the settlement agreement and breached the same.
"In addition to breaching the agreement following execution, Vicki made false statements and representations to induce RW III to enter into the settlement agreement. Vicki represented that she would in good faith abise by the settlement agreement and use her best efforts to make VV successful.
Article continues below advertisement
"In reality, Vicki had no intention of abiding by the terms of the settlement agreement and had merely used the entire exercise as a means to solve certain problems, including her dismissal from the federal litigation."
According to Williamson, by August 9, Gunvalson's lawyers began to send emails to "assert positions contrary to the settlement agreement."
He said Gunvalson and Ayers "conspired to work in concert to obtain money" from him and "deprive him of ownership interest" in the business.
The renewed legal focus on Ayers comes after he filed his own slander lawsuit against Williamson last month, claiming the poker pro went public with false allegations that he'd uncovered evidence detailing how Ayers planned to have him killed.
Williamson told the Las Vegas court he was also defamed, after Ayers told an associate he'd embezzled money from a charity.
According to Williamson, Ayers contacted a man named Doug Dreisbach, the organizer of an annual charity poker event, via telephone, in June and during that call, "Brooks represented to Doug that RW III is under investigation for embezzlement" and had "embezzled funds" from the organization.
Article continues below advertisement
"When confronted about the fact that RW III does not have access to or handles funds for this entity, Brooks insisted that RW III found a way," the lawsuit said.
"There is no record of or possibility that RW III access any funds form DPC."
Williamson also alleged Ayers and others "devised and executed a plan to extort money" from him.
"Brooks devised this plan by using an acquaintance of RW III as a pawn," the lawsuit claimed.
"The basis for the extortion was a false story wherein Brooks told RW III that (acquaintance) was going to tell RW III's wife that they were having an affair if RW III did not provide funds to (acquaintance).
"Initially, not knowing what to do, RW III gave Brooks the requested amount of funds."
But it turned out, Williamson said, that the acquaintance had not made the alleged threats and Ayers retained "a large portion of funds… for his own benefit."
"Eventually, RW III learned of the scheme and ceased making payments to Brooks," the lawsuit stated.
Other defendants in the lawsuit include Michael Nicholson, a Napa Valley, Calif., businessman who Williamson is suing for an array of claims, including misappropriation and conversion of funds.
A group of businesses including Cougar Juice Vodka, Sweetwaters Distillers, Stillwater Spirits and Woo Hoo Productions are also named as defendants.