Exclusive
He Left A Bad Taste! Vicki Gunvalson's Vodka Business Partner Slams Brooks Ayers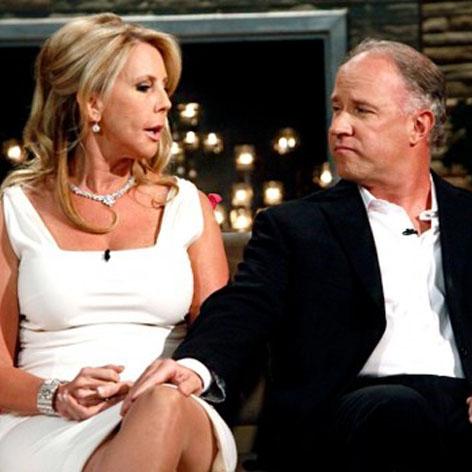 Article continues below advertisement
"No matter where our relationship ends up in the future, I am thankful for Brooks that his business knowledge and strength assisted Robert and I with forming the business," Vicki Gunvalson. "Without Brooks, Vicki's Vodka would not be in existence and I am extremely grateful and thankful for him."
Responding, a defiant Williamson told Radar. "My problem is that Vicki is inaccurately thanking Ayers on my behalf. While I understand that Vicki Gunvalson is in an on-again, off-again personal relationship with Brooks Ayers and is being gracious in mentioning that he had an influence on the business, I want to be clear that Vicki Gunvalson does not speak for me behalf and the opinions that she has expressed are not shared by me in any way.
"I understand that Vicki Gunvalson is trying to be kind. However, in trying to be polite to Brooks Ayers, Vicki has downplayed the fact that she is a savvy businesswoman in her own right and that it was Vicki Gunvalson and I who formed Vicki's Vodka. And it is the hard work and dedication of Vicki Gunvalson and myself that has led to the success of Vicki's Vodka. I want to be clear that Brooks Ayers has had absolutely nothing to do with that growth, recognition and success.
Article continues below advertisement
"Brooks Ayers is not involved with Vicki's Vodka and will remain uninvolved in the future. Contrary to what might have been posted and circulated online, Brooks Ayers and I are still involved in litigation related directly to issues between the two of us involving the business of Vicki's Vodka, which originally threatened to cause harm to the growth and future of the business and the relationship between Vicki Gunvalson and I as business partners.
Article continues below advertisement
It's claimed Gunvalson gifted 16.67 percent of the business, named Vicki's Vodka, which was started in 2012, to Ayers without the knowledge of her business partner Williamson.
Ayers then sold it to Williamson in an act of fraud, he claims.
"An agreement was reached, while RW III Williamson was in Clark County, Nevada, for the purchase of Brooks' interest for the sum of $50,000.00 which is memorialized in writing in an agreement dated March 6, 2013."
But then, "it was learned later that Brooks and Vicki had used this purchase as a way to obtain additional money from RW III in bad faith without the intent to honor the intent of the transaction."
According to Williamson, Gunvalson later "demanded" that ownership be returned to a 50-50 split between them.