Exclusive
Revealed: The Contract At Center Of $250K Vodka Lawsuit Where Vicki Gunvalson Agreed To Business Sale — Before Backflipping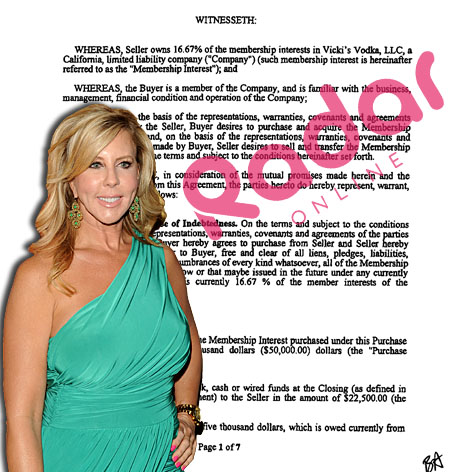 This is the document at the center of an ugly court battle between Vicki Gunvalson and a disgruntled business partner, who is suing the Real Housewife of Orange County star for allegedly bilking him of more than 250 thousand dollars.
It's a purchase agreement between Gunvalson's boyfriend, Brooks Ayers, and Robert Williamson III, a professional poker player whom the Bravo reality star went into business with in 2012 to produce distilled flavored vodka.
Article continues below advertisement
The agreement is signed by both Gunvalson, 51, and Ayers, who the reality star began dating in 2011, and notarized by a public officer from Orange, Calif.
But according to Williamson, who is suing Gunvalson for hundreds of thousands of dollars in damages, the 'RHOOC' star then tried to prize back the equity of "Vicki's Vodka" soon after Ayers' fire-sale.
"Vicki demanded that the ownership be returned to 50/50 even though she had acknowledge and signed Exhibit 2 the purchase agreement and upon information and belief, she had received part of the money from Brooks," the suit claims.
Article continues below advertisement
When her bid to regain control was unsuccessful, it's alleged, Gunvalson offered a "total lack of co-operation" to make the business a success.
On the surface, the document could provide a major stumbling block for Gunvalson in overcoming the suit because she acknowledged that she only owned "33.33 percent of the Company" and Ayers was selling "16.67 percent of the Company."
The document even goes into explicit detail about how it was to be paid — three payments of $22,500, $8,000.00 and $11,500 — and the "forgiveness" of a five thousand dollar debt between Brooks and Williamson and $3000 expenses associated with the May 3 and 4 Kentucky Derby.
Williamson is now seeking hundreds of thousands of dollars in damages, interest and attorneys fees.