Exclusive
Brooks Ayers Admits He Sold Share In Vicki Gunvalson's Vodka Business Because 'He Needed Money For Child Support'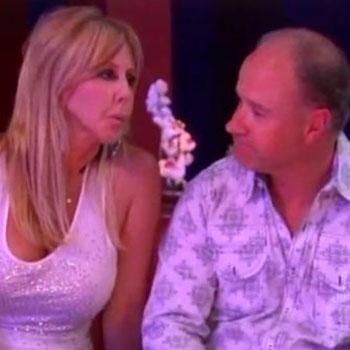 Article continues below advertisement
Now, RadarOnline.com has learned, Brooks has admitted that Vicki, 51, gifted him a 16.67% share in her business to produce distilled flavored vodka -- a share he later sold to another business partner for $50,000 in a bid to wipe out child support and IRS debt.
The confession is bound to give Brooks' critics more fuel who have long accused him of being with Vicki just for money during their two-year, on-again, off-again romance.
In a response to the suit filed on July 23, Brooks told a Nevada judge that "Gunvalson gave him a membership interest in VV LLC to compensate him for the services he had provided."
He also confessed that he later met the man now suing him, Robert Williamson III, a professional poker player whom the one-time couple went into business with in 2012, in March to orchestrate the sale of that interest because "he needed money for child support and an IRS payment."
Article continues below advertisement
Williamson had previously claimed Brooks told him that he would be jailed imminently if the sale did not go through.
According to Williamson's lawsuit, filed in June, "it was learned later that Brooks and Vicki had used this purchase as a way to obtain additional money from RW III in bad faith without the intent to honor the intent of the transaction."
He charged in court papers that Gunvalson later "demanded" that ownership be returned to a 50-50 split between them — despite the existence of a contract that the Bravo star appeared to acknowledge by way of her signature.
"Upon information and belief, it was the intent of Brooks and Vicki to lure RW III into the purchase of Brooks interest without the good faith intent to move forward with the company and make it successful," the original suit stated.
In his answer, Brooks confirmed Vicki demanded that the ownership be returned to 50/50 even through she had acknowledged and signed an agreement to that effect.
He denied that he and Vicki had used this purchase as a way to obtain additional money from Williamson and rejected that Vicki had offered a "total lack of cooperation or effort" to promote the organization and make it successful.
He said Williamson "suffered no legally cognizable damages" as a result of he and Vicki's actions. He's seeking the suit be dismissed.