Vicki Gunvalson Slams $250K 'Vicki's Vodka' Fraud Lawsuit, Labels It 'Frivolous'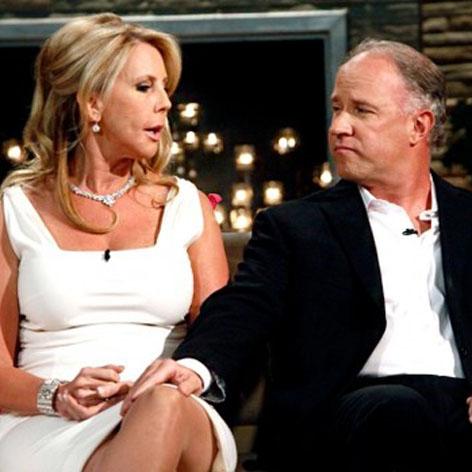 Article continues below advertisement
"This response will reveal my side of the story and the lack of truth that was told. There will be more details to follow shortly. Thank you for your support."
RadarOnline.com broke the story: Professional poker player Robert Williamson III filed suit against Gunvalson and Ayers on June 7, claiming they breached contract, committed fraud, failed to live up to good faith dealings, misrepresented herself and conspired to unjustly enrich themselves.
It's claimed Gunvalson gifted 16.67 percent of a business, named Vicki's Vodka, which was started in 2012, to Ayers -- without the knowledge of her business partner.
Ayers then sold it to Williamson in an act of fraud, it's alleged.
"He claimed to need the money for unpaid IRS and child support obligations in order to prevent his imminently going to jail for non-payment," the lawsuit says.
"An agreement was reached, while RW III Williamson was in Clark County, Nevada, for the purchase of Brooks' interest for the sum of $50,000.00 which is memorialized in writing in an agreement dated March 6, 2013."
Article continues below advertisement
But then, it's alleged, "it was learned later that Brooks and Vicki had used this purchase as a way to obtain additional money from RW III in bad faith without the intent to honor the intent of the transaction."
According to her one-time business partner, Gunvalson later 'demanded' that ownership be returned to a 50-50 split between them -- despite the existence of a contract that the Bravo star appeared to acknowledge by way of her signature.
That contract, published in its entirety here, details how Ayers was paid -- three payments of $22,500, $8,000.00 and $11,500 -- and the "forgiveness" of a five thousand dollar debt between Brooks and Williamson and $3000 expenses associated with the May 3 and 4 Kentucky Derby.
The agreement is signed by both Gunvalson and Ayers, who the reality star began dating in 2011. It also notarized by a public officer from Orange, Calif.