Exclusive
Fatal Friend: Cory Monteith's 'Despicable' Pal Enabled Heroin Overdose, Source Claims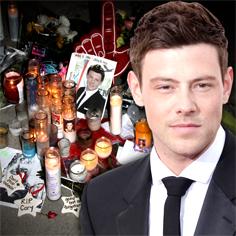 Article continues below advertisement
"You don't have to look very far in Vancouver to find the person who gave Cory his heroin," the source insisted. "There is a despicable individual … who claims he was a friend of Cory. Allegedly, he was the one who gave Cory the heroin, according to people close to him."
On Thursday, just days before Cory died, he bought a glass pipe from a local head shop, according to the source.
"Cory knew what he was doing but wouldn't buy his own drugs, so allegedly he asked his … friend to score it," the source says, insisting that that person is "guilty of unwittingly assisting in the death of 'his friend' Cory Monteith."
Unfortunately for those seeking closure, the police investigation is officially complete and officers will not be further investigating this individual.
During a police press conference on Tuesday, one agitated journalist asked if the person would get away with it. The police rep responded, "There's an inherent risk when you're using illicit drugs and there's nothing legally as far as we can see that would cause us to investigate further."