Exclusive
Teen Moms Gone Wild! Adding Fame To Vulnerable Girls Is Pouring Gas On A Fire, Warns Psychologist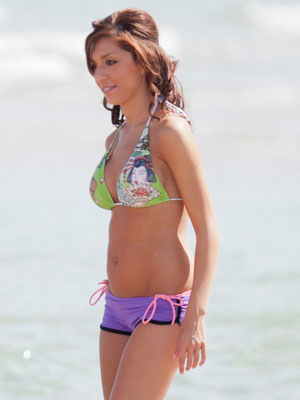 From arrests for assault and domestic violence, to sex scandals and multiple marriages, the stars of Teen Mom can be seen as a guide of how not to grow up!
The latest shocking revelation that 21-year-old Farrah Abraham made a porn tape to remind her (she says) of the "best year" of her life has added fuel to the concern that the MTV reality show has put already troubled young women in even greater peril by surrounding them with bad influences.
Article continues below advertisement
"Doing reality television can have a negative effect on its participants when they become stars," Los Angeles psychologist Dr. Seth Meyers, who has not treated the reality stars, told RadarOnline.com in an exclusive interview.
"Unlike a struggling actor who typically has years of auditions to thicken their skin, the reality star is usually plucked out of obscurity and thrust onto the national stage," he explained.
The instant fame certainly escalated the downward spiral of Teen Mom 2's Jenelle Evans. The party girl from North Carolina will be back in court yet again after claiming she was brutally assaulted by her boyfriend — resulting in four charges of assault on a female and one charge of battery on an unborn child, which Jenelle later lost in a miscarriage.
"The girls of Teen Mom were eligible for the show because they fell into extremely challenging circumstances and, as a result, didn't have the kind of solid foundation necessary to manage their home lives and deal with the rush of notoriety that comes with faux-stardom," Dr. Meyers explained. "These girls were vulnerable from the start, and adding momentary fame is like pouring gasoline on an already brewing fire. "
Article continues below advertisement
Amber Portwood's out-of-control antics have not only lost her custody of three-year-old Leah, but landed her with a five-year jail term for drug possession and failure to complete a court-ordered rehab.
"Fame and money offer powerful distractions for these women, often causing them to get into trouble. The goal for these young women needs to be get back in touch with their sense of purpose," added Dr. Meyers.
Is it the end of the road for these young moms gone astray, or can they get their both lives and careers back on track – either in or out of the spotlight – for the sake of their children?
"They need to identify short- and long-term goals that speak to getting established as an adult," Dr. Meyers told Radar.
These goals should include: finding a steady romantic partner or letting go of one that is dragging them down; crafting a daily schedule that allows for at least one hour of bonding time with their child or children, cultivating skills that can pay the bills over the long haul; and meeting with a financial planner to make sure their finances are in order and that they have a realistic and sound savings plan for themselves and their children, he revealed.