Exclusive
Hardcore Teen Mom! Farrah Abraham Tried To Sell Her Own Sex Tape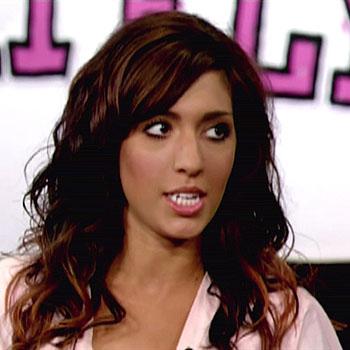 Former Teen Mom star Farrah Abraham made a sex tape with an ex-boyfriend and RadarOnline.com has exclusively learned she was secretly behind shopping the tape but because proper releases weren't obtained, the tape was a dud — which led the reality TV star to shoot a "legal" porn tape with Lindsay Lohan's The Canyons co-star and porn star James Deen over the weekend that she can profit from.
According to an industry insider, when selling Farrah's sex tape became complicated because of releases, Vivid Entertainment founder Steve Hirsch stepped in and had the 21-year-old sign a 2257 model release ensuring both parties involved are over 18 years old.
Article continues below advertisement
"The original sex tape shows Farrah having intercourse and giving oral sex to ex boyfriend," a source revealed.
"A third party was involved in the sale, but Farrah was also secretly involved. She wanted it out because she's desperate to be relevant again. The problem is that there's no release for the sex tape because both parties need to sign off on it."
Kevin Blatt — the Los Angeles-based sex tape broker responsible for the release of Paris Hilton and Kim Kardashian's sex tapes — says he was shopped the Teen Mom's original sex tape but passed for a few reasons.
"I saw the tape with Farrah and her ex and I passed. Not only is Farrah not a real celebrity, but there was no release showing that she was of legal age at the time, making a tape like that useless," Blatt told Radar.
"When I saw it I felt like I was watching child pornography."
Blatt claims Farrah inked the deal with Vivid so the porn tape would be legal and profits could be legally obtained.
"The 18 USC 2257 release states that both parties must be over 18 and consent," Blatt said.
"It's the same release that Kim Kardashian signed with Vivid to put her tape out!"
Do you think this is the right career move for Farrah? Sound off below…