Teen Mom Farrah Abraham: I Made My Own Porno To Look Back On When I'm Older!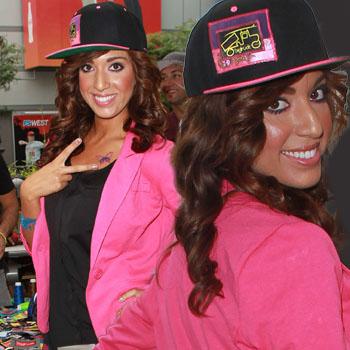 Not only does Farrah Abraham admit she made a porn flick for financial gain, but the former Teen Mom star claims she made the adult film so she would have her "best year" to look back on when she's older, RadarOnline.com is reporting.
Farrah, 21, was forced to release a statement after her XXX co-star James Deen blabbed that the two made a porn together, which she eloquently calls a "personal video," and she says she won't take any less than $2 million for it!
Article continues below advertisement
"I'm a great woman, mother and entrepreneur. As for the company who has a copy of my personal video, my lawyer is taking care of that matter. I will not be settling for anything less then a couple million," she said in the statement.
"I wanted my own personal video made and photos taken for myself, when I am older I will have my best year to look back on. I'm happy to see my 21st year be done. I've learned a lot."
However, Farrah, who has a 3-year-old daughter, contradicts herself in her statement because if she wanted a PERSONAL video to look back on when she's older, it would have stayed personal. Instead, she made a porn video for one reason — money.
As RadarOnline.com exclusively reported earlier this week, Farrah's motive from the beginning was both money and fame.
"The original sex tape shows Farrah having intercourse and giving oral sex to ex boyfriend," a source told RadarOnline.com about the first sex tape that was shopped but hit a roadblock with the releases, which prompted the Teen Mom to make a "legal" porn tape.
Article continues below advertisement
"A third party was involved in the sale, but Farrah was also secretly involved. She wanted it out because she's desperate to be relevant again. The problem is that there's no release for the sex tape because both parties need to sign off on it."
But the single mother (who plans to stay that way!) wants her fans to know she practiced safe sex.
"As my young fans and others should expect I made sure my partner was tested and clean as well as contraception was used. This is just something I personally needed for me," Farrah said.
"If my ex boyfriend Derek were alive, I would of rather it had been him with me. But sadly I feel I will never have another boyfriend or love, given that others intentions are not in the right place. But I will always continue living and staying positive. Thank you for understanding during this shocking time."
The only thing that's shocking is Farrah's $2 million valuation on her sex tape.