Exclusive
Teen Mom Turned Porn Star: Farrah Abraham Offered $100K For Her First Porn Flick!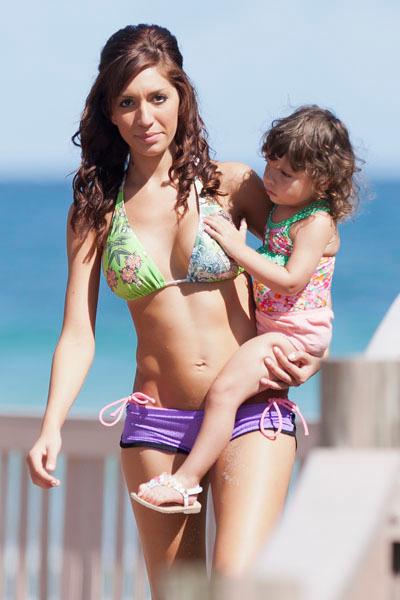 Teen Mom Farrah Abraham's plot to use a sex tape to extend her 15 minutes of fame into 30 is working, because RadarOnline.com has exclusively learned an offer has already been made on the professional porn flick she shot with Lindsay Lohan's Canyons co-star, James Deen.
A Canadian porn website is keen to get their hands on Farrah's porn tape — the first Teen Mom one of its kind! -- and has offered the 21-year-old mother $100,000 for the rights to the porn tape, promising to make her a "bigger star than Kim Kardashian!
Article continues below advertisement
EXCLUSIVE DOCUMENT: Teen Mom Farrah Abrahams Offered $100K For Porn Flick — See The Offer Letter
"We are happy to hear that you have joined the 'dark side' by filming your own adult movie with Pornstar, James Deen," Sam Rothstein, the Marketing Director for BangYouLater.com wrote in an offer letter to Farrah, exclusively obtained by Radar.
"Being one of the largest tube sites online, we know just how to maximize our Internet traffic to give you the most exposure to make you a bigger star than Kim Kardashian!"
And that's exactly what Farrah wants, because as RadarOnline.com exclusively reported on Monday, before teaming up with James for a legit porn movie, the MTV star attempted to shop around her own homemade sex tape — but was unsuccessful in getting a proper release for it.
"The original sex tape shows Farrah having intercourse and giving oral sex to an ex-boyfriend," a source revealed.
"A third party was involved in the sale, but Farrah was also secretly involved. She wanted it out because she's desperate to be relevant again. The problem is that there's no release for the sex tape because both parties need to sign off on it."
Article continues below advertisement
Assuming that both Farrah and James, who are both over 18-years-old, signed off on the commercial sale of the tape, it looks like Farrah is in for a hefty payday — as well as a blossoming future in porn.
"Contact us via our website so we can make you very aware of just how much this video is worth, and make sure we can talk about future work with us," BangYouLater.com's Rothstein continued in the letter.
"We believe you the stand out of the show, Teen Mom, and we'd like to expose you to a much larger audience."