Reeva Steenkamp Secretly Met With Ex-Boyfriend Just Two Days Before She Was Gunned Down By Oscar Pistorius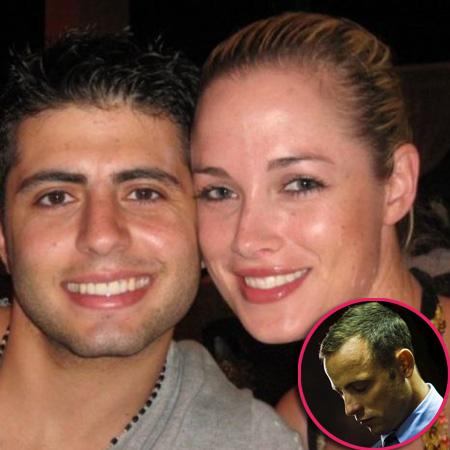 The model who was gunned down by Olympic athlete Oscar Pistorius met with her ex-boyfriend just two days before she was killed, RadarOnline.com is reporting.
In a bombshell new BBC Three documentary Oscar Pistorius…What Really Happened? Reeva Steenkamp's ex-love of five years, Warren Lahoud, spills all the details on their clandestine meeting — claiming that despite the murder defendant repeatedly calling his girlfriend to check up on her whereabouts, she seemed in good spirits and assured Lahoud there were no problems in her new relationship.
Article continues below advertisement
The successful businessman, who runs his own South African vegetable exporting business based near Johannesburg, reveals in the TV special that he had previously crossed paths with the Paralympian - who is nicknamed the Blade Runner - and had never noticed anything off about his behavior.
"I've met him twice and there was never anything negative out of it at all. (It was) fine…no problem at all," he says.
During their rendezvous, Lahoud says he asked Steenkamp if everything was ok at home after they were interrupted during their innocent coffee date.
"I mean he's phoned twice already, every 20 minutes," Lahoud says. "I asked her that question. She said 'there's nothing wrong.'"
South African police have said they want to study text messages on Steenkamp's iPhone in the days leading up to her tragic shooting - and it seems with good reason - as Lahoud tells the BBC that the former couple had exchanged numerous text messages in the days leading up to the fatal shooting.
Article continues below advertisement
"She contacted me and we met up for a quick coffee, and that was it," he states. "We did exchange text messages, to meet up the previous week. It was just a hello, how are you, and that's it, and I suppose that led up to meeting me.
"She seemed fine. We didn't really discuss personal relationships it was more a friendly thing.
"She didn't seem unhappy. She always told me that she wouldn't be with anybody that she felt unhappy with, or she wouldn't allow herself to be with somebody like that.
"I'm actually glad that we did meet now. I'm very glad that I did see her.
"She was unbelievable from the beginning. She really captured everything of me and was a great person.
"Reeva had a beautiful loving heart, she gave everything, and was friendly to everyone. She really made you feel good and welcome.
"In a matter of conversing with her for a few seconds you'd feel like you've known her for years.
Article continues below advertisement
"That was how Reeva was. Very open and loving and full of fun."
When asked if he sensed during their catch up that there were problems between Steenkamp and Pistorius, Lahoud says, "It was just random. She asked me how business was going, I asked her how her modeling was going, what she's doing, where she's at, how things are.
"It was that kind of friendly chat, it wasn't anything specific we met for. Just a catch up of what's going on, and how our families are. That kind of stuff. You know, nothing specifically intense or anything like that."
And, if he had the chance to talk to Pistorius, what would Laroud ask?
"Why? Why did you do it? What happened?" he says.
"Other than that I can't really comment on what's there, or what has happened, or what I feel.
"I'll leave that to the justice system, and their findings. Nobody knows, it's all in their hands, and we just have to wait and see what happens."