Oscar Pistorius Holding Personal Memorial Service For Gunned Down Lover He's Accused Of Murdering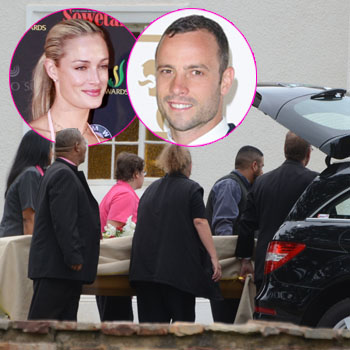 Less than two weeks after he fatally shot Reeva Steenkamp, shamed Olympic athlete, Oscar Pistorius is set to hold a personal memorial service for his late girlfriend at his uncle Arnold's Pretoria, South Africa home Tuesday night.
The Olympic athlete, who's charged with premeditated murder in the Feb. 14 death, "remains in deep mourning for the loss of his partner Reeva," according to Vuma Reputation Management, a PR firm representing the runner.
Article continues below advertisement
The 29-year-old beauty's family held a private service for her last week in Port Elizabeth, followed by a cremation ceremony.
"Oscar specifically requested the memorial service as he continues to grieve and remains in deep mourning for the loss of his partner Reeva," a statement from the Pistorius family said.
"Since it is such a sensitive issue, Oscar has asked for a private service with people who share his loss, including his family members who knew and loved Reeva as one of their own.
MORE ON:
Celebrity Justice
"The Pistorius family would like to make a personal request to the media, to please respect their privacy at their home in Pretoria tonight."
As RadarOnline.com previously reported, Steenkamp's parents Barry and June told South African TV show Cart Blanche on Sunday that it's time Pistorius "come out with the honest truth" about the shooting.
"It's only Oscar and Reeva that know the true story," Barry said, adding the runner must "live with his conscience" if he's guilty.