Date With Death! Final Image Of Reeva Steenkamp Arriving At Oscar Pistorius' Home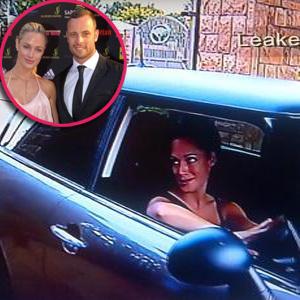 As shamed Olympian Oscar Pistorius reported to the authorities under his bail terms for murder charges on Monday, the final image of his beautiful blonde girlfriend has emerged as she arrived at the gated mansion where she would die just hours later and RadarOnline.com has the photo.
The released security footage shows smiling Reeva Steenkamp chatting happily with the guards as she entered the South African housing complex in her Mini Cooper at around 6 p.m. on the eve of Valentine's Day, reported the New York Post.
Article continues below advertisement
As RadarOnline.com previously reported, during his lengthy bail hearing last week, Pistorius, 26, tearfully told the Pretoria Magistrate's Court how he heard noises in his home on that fateful night, and thinking Steenkamp was in bed, fired a total of four warning shots through the bathroom door.
"I fail to understand how I could be charged with murder, let alone premeditated murder because I had no intention to kill," he told the judge.
Along with the chilling last imagess of the model, news has surfaced that the blonde beauty had not planned to spend the night with her boyfriend of a year and was originally going to return to the home of Cecil Myers, the father of her best friend, Kim.
However, hours before she sent a fateful text that read, "Hi guys, I'm too tired. It's too far to drive. I'm sleeping at Oscar's tonight. See you tomorrow,'" Myers told South Africa's City Press newspaper, who believed that the disabled athlete was bad news for Steenkamp from the beginning.
MORE ON:
Celebrity Justice
Article continues below advertisement
"He kept pestering her, phoning and phoning and phoning her. Oscar was hasty and impatient and very moody," Myers claimed.
"She told me he pushed her a bit into a corner."
On Sunday, Steenkamp's heartbroken parents made a tearful plea to Pistorius to come clean about his crime.
"It's only Oscar and Reeva that know the true story," mourning father Barry Steenkamp told South African TV show Cart Blanche on the same day he told local newspaper Beeld that Pistorius must "live with his conscience" if he's guilty.
Pistorius gained international fame as the first-ever double-amputee runner in Olympic competition. Running the 400 and 4×400 relay during the 2012 Olympics, he finished eighth in both the team and individual competitions.