Oscar Pistorius' Brother Charged With 'Culpable Homicide' In Death Of Motorcyclist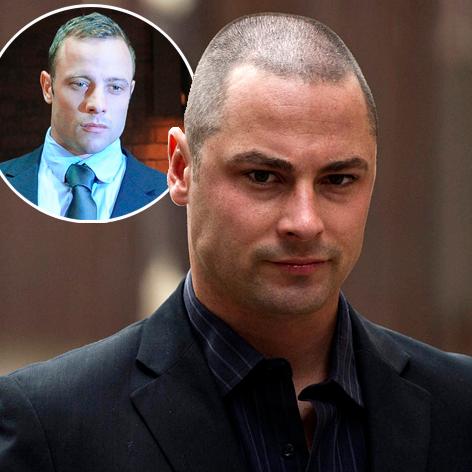 Carl Pistorius was a constant fixture in the courtroom during his brother Oscar's lengthy bail hearing last week. What few knew at the time though is that Carl is facing culpable homicide charges in the death of a motorcyclist.
In fact, Carl was in court facing his charges just two days before Oscar's bail hearing, represented by the very same lawyer, Kenny Oldwage.
The accident occurred an hour south of Johannesburg in 2010, resulting in the death of a female motorcyclist.
Article continues below advertisement
Carl was initially charged with reckless or negligent driving, but the matter was provisionally withdrawn, and later reinstated as culpable homicide.
Carl was tested for alcohol use at the time of the accident, and it was determined he had not been drinking.
He was due to go on trial last Thursday but Oldwage confirmed that he'd had it postponed until March.
As RadarOnline.com has been reporting, Oscar, the famed South African athlete known as the Blade Runner, has been charged with the pre-meditated murder of his model girlfriend, Reeva Steenkamp.
Oscar shot and killed Steenkamp earlier this month, in what the athlete calls a "terrible accident."
On Sunday, Oscar and Carl were believed to be together in a home provided by Oscar's legal team in Pretoria.
Oldwage disputes that Carl was driving recklessly at the time of the accident, and insists he'll be acquitted of the charge.
"Carl deeply regrets the accident. Blood tests conducted by the police at the time proved that he had not been under the influence of alcohol, confirming that it was a tragic road accident after the deceased collided with Carl's car," a statement from the Pistorius family said.
The family has not said if Oscar will be in court to support Carl next month.