Oscar Pistorius Granted Bail In Alleged Murder Of Model Girlfriend Reeva Steenkamp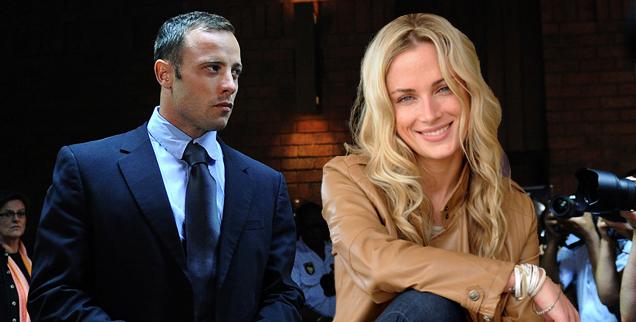 UPDATE: Pistorius' bail was set at $113,000, it was just announced.
South African Magistrate Desmond Nair granted Oscar Pistorius' request for bail during the fourth day of his hearing at Pretoria Magistrate's Court on Friday, as the Olympian is accused of premeditated murder in the February 14 shooting of girlfriend Reeva Steenkamp.
"I've come to a decision that … the accused has made a case to be released on bail," the magistrate said.
Article continues below advertisement
There was a huge uproar in the courtroom after the judge made the ruling, as he said circumstances that led to his decision include the state's case being not strong enough; and Pistorius' strong ties to, and property holdings in, South Africa. Nair came to the decision after a nearly two-hour address, in which covered a range of topics, spanning from minute details in the case, to the history of bail in South Africa.
At this time, we're still waiting to learn the amount of Pistorius' bail, but once he posts it, he would be released immediately.
During Friday's hearing, in which cameras were not allowed, Pistorius looked detached as he sobbed and quivered, while his lawyer Barry Roux argued that the prosecution has botched its case in trying to hold Pistorius responsible for shooting Steenkamp, when the Olympian believed he was thwarting a home intruder.
Article continues below advertisement
"He did not want to kill Reeva -- he had no intent to kill Reeva." Roux said, adding that the runner should be charged with culpable homicide instead of premeditated murder.
The prosecution said the 26-year-old athlete, who has been spotted weeping many times during the proceedings, shot to kill Steenkamp as she hid in a bathroom following a violent Valentine's Day argument.
"The fact that we have only one survivor of that tragic night is difficult for the state," prosecutor Gerrie Nel said. He later said Pistorius has been more upset and self-pitying about losing his career and good name, as opposed to his girlfriend's death.
Roux said the Blade Runner is not a flight risk due to the nature of his disability, as he needs monthly maintenance on his stumps, and his prosthetic legs are a red flag for airport security monitors. Prosecutors said the court should not rule differently because of the man's handicap or fame.
Nel cited that Wikipedia founder Julian Assange was able to dodge extradition for sex charges in Sweden by taking up at London's Ecuadorean Embassy, adding that Assange's "facial features are as well known as Mr. Pistorius' prostheses."
Article continues below advertisement
Outside of the court, Pistorius' trainer Ampie Louw said Friday he hoped the judge would grant the runner bail, and would begin training with him as early as Monday if the judge granted the request.
"I'm not the legal side of it," he said. "But I'm ready."
Two people linked to Steenkamp family's attended Friday's hearing, marking the first presence of those associated with the blonde beauty, who was cremated in a private memorial service in Port Elizabeth on Tuesday.
"Why? Why my little girl? Why did this happen? Why did he do this?" her mother June told South African newspaper The Times earlier this week.
The ruling wrapped up a tense week plagued by controversy, notably the revelation the lead investigator in the case, Detective Warrant Officer Hilton Botha, had serious legal issues of his own, accused of attempted murder in the shooting of a minibus. Botha was subsequently replaced by Lt. General Vinesh Moonoo.
Pistorius gained international fame as the first-ever double-amputee runner in Olympic competition, garnering the nickname, the "Blade Runner."