'I Was Scared And Screamed': Oscar Pistorius Reveals His Side Of How He Killed Reeva Steenkamp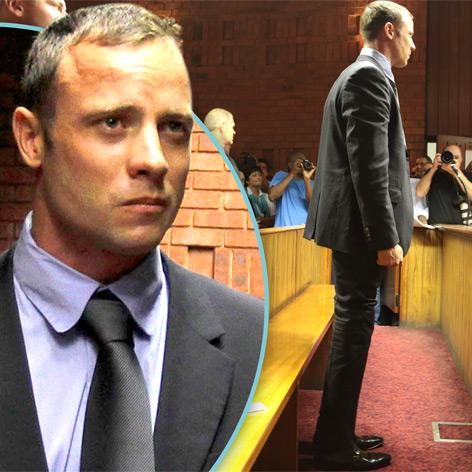 Oscar Pistorius - speaking via his attorney - told a packed courtroom in South Africa Tuesday he was "scared" and "screamed" in the moments leading up to, and following, his fatal shooting of girlfriend Reeva Steenkamp on Valentine's Day.
Pistorius, who's nicknamed "The Blade Runner" for his prosthetic limbs, made the statements through his lawyer in an affidavit, telling his side of the story during his bail hearing at Pretoria Magistrate's Court, where prosecutors charged him with premeditated murder.
Article continues below advertisement
In explaining his side of the shooting, the 26-year-old Olympian said he heard noises in his home, and thinking Steenkamp, 29, was in bed, fired a total of four warning shots though the door.
"I kicked the door open. I tried to help her, but she died in my arms. I fail to understand how I could be charged with murder, let alone premeditated murder because I had no intention to kill. I had no intention to kill my girlfriend Reeva Steenkamp.
"I have been informed I have been accused of murder -- I deny the accusation. Nothing can be further from the truth that I planned the murder of my girlfriend. On 13 Feb Reeva would have gone out with her friends, me with mine. She wanted to stay at home. I was watching TV. My legs were off. She was doing yoga. At the end of the evening we got into bed.
"I'm acutely aware of people gaining entries to homes to commit crime, I've received death threats. I sleep with my 9mm under my bed. I woke up to close the sliding door and heard a noise in the bathroom. I was scared and didn't switch on the light. I got my gun and moved towards the bathroom. I screamed at the intruder because I did not have my legs on I felt vulnerable. I fired shots through the bathroom door and told Reeva to call police.
Article continues below advertisement
|
|
"I walked back to the bed and realized Reeva was not in bed. Its then it dawned on me it could be her in there. I kicked the door open. Called paramedics and complex security. I tried to carry her downstairs for help. I tried to help her but she died in my arms.
"With the benefit of hindsight I realize that Reeva went to the bathroom when I went to close the balcony door."
Article continues below advertisement
Prosecutors said the Olympic hero's claim he thought he was shooting an intruder doesn't hold water, asking, "Why would a burglar lock himself inside the bathroom?"
Nel -- who said Pistorius' alibi "was all part of the preplanning -- said that Steenkamp "couldn't go anywhere" in the situation.
Chief Magistrate Desmond Nasir said Pistorius would be subject to the harshest bail sentencing possible in South African law, without elaborating further. Analysts predict bail will be denied, which would mean Pistorius would be transferred from the police station he's being held in, to a jail facility.
Outside the court, protestors against domestic violence marched holding signs saying, "Pistorius must rot in jail."
Also on Tuesday, Steenkamp's body was cremated in a private memorial service in Port Elizabeth. Her mother June Steenkamp said in an emotional interview with South African newspaper The Times Monday, "Why? Why my little girl? Why did this happen? Why did he do this?"
As we previously reported, Pistorius gained international fame as the first-ever double-amputee runner in Olympic competition. Running the 400 and 4x400 relay during the 2012 Olympics, Pistorius finished eighth in both the team and individual competitions.