Bloody Cricket Bat Reportedly Found At Oscar Pistorius' Mansion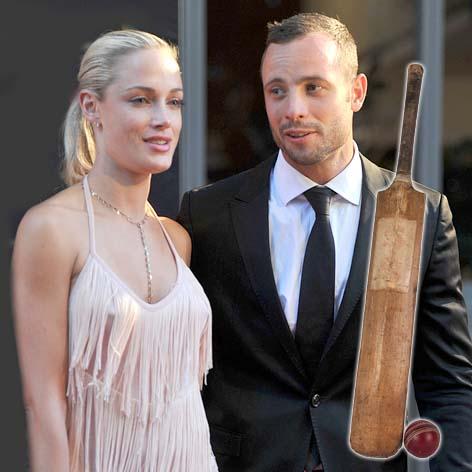 A bloody cricket bat was found at the home of Oscar Pistorius, the South Africa newspaper, City Press is reporting.
Pistorius, a double amputee known as the Blade Runner, shot his model girlfriend Reeva Steenkamp Thursday morning. He's been charged with pre-meditated murder, is being held without bail.
His supporters are insisting the shooting was an accident, that the Olympic hero thought he had an intruder in his house.
Article continues below advertisement
But City Press is also reporting that sources close to the investigation have said the beautiful Steenkamp's skull was crushed.
"There was lots of blood on the cricket bat. Forensic tests will show whose blood it was," a source said.
Steenkamp was wearing a nightgown when found and police discovered her overnight bag and iPad on the floor of Oscar's bedroom. A holster for a 9mm pistol was found on his side of the bed. The bedding was crumpled. "It was clear that both of them had slept in the bed," a police source told City Press.
One spent cartridge was found in the bedroom and according to City Press, police suspect Oscar may have "chased" his girlfriend and fired the first shot before Steenkamp could lock herself inside the bathroom.
"The suspicion is that the first shot, in the bedroom, hit her in the hip. She then ran and locked herself in the toilet. She was doubled over because of the pain. He fired three more shots. She probably covered her head, which is why the bullet also went through her hand," a source is quoted as saying.
Pistorius will enter his plea on Tuesday, the same day a memorial service is planned for Steenkamp.
Stay with RadarOnline.com for all the latest developments on this story.