Did Blade Runner Have Roid Rage? Outlawed Steroids Discovered At Home Of Accused Murderer Oscar Pistorius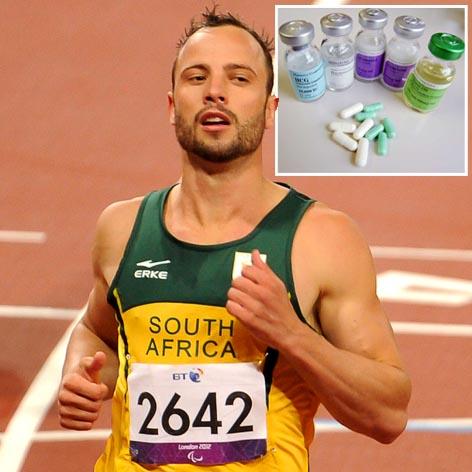 Article continues below advertisement
Cops are believed to be investigating the theory that "Blade Runner" may have blasted Steenkamp in the grip of "roid rage," which is a possible side effect of the outlawed drugs.
Forensic experts will now test blood samples taken from Pistorius, 26, to see if steroids were in his system, according to The Sun.
"Steroid drugs were found at Pistorius' home together with evidence of heavy drinking. That's why police have specifically ordered that he be tested for steroids," a source close to the investigation told the British newspaper.
As RadarOnline.com previously reported, the Olympic gold medalist sprinter shot the beautiful model with a 9mm pistol through a locked bathroom door at around 3 a.m. on Valentine's Day.
She was hit by four bullets, once in the head, from shots fired at her from the master bedroom. It's believed one bullet hit her as she fled to the bathroom.
Bullet wounds to her finger and arm suggest that she may have been covering her head protectively with her hands.
Tests will also establish if Reeva, 30, was struck by the blood-stained cricket bat found in the Pretoria house before she was gunned down.
Pistorius is denying a murder charge and has claimed he fired after mistaking Reeva as an intruder.
According to reports, his legal team are preparing the defense that Pistorius forgot Reeva was planning to spend the night at his home.
Phone records are also being checked after it was suggested that Reeva got a late night text from South African rugby star Francois Hougaard. Detectives are exploring the possibility that message may have angered Pistorius.