Blade Runner Oscar Pistorius' Uncle Says Prosecutors Are 'Way Off Base' With Murder Charge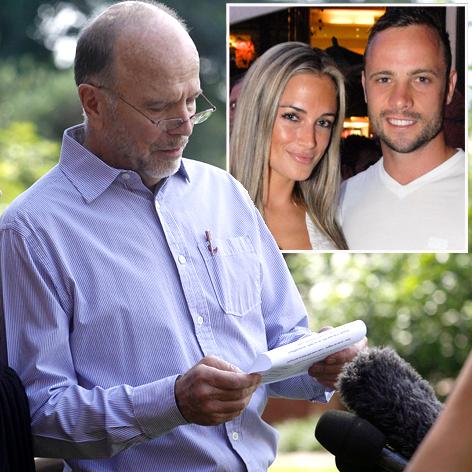 The family of South African sprinter Oscar Pistorius is speaking out, insisting the fallen Olympian did not knowingly kill his girlfriend Reeva Steenkamp.
"After consulting with legal representatives, we deeply regret the allegation of premeditated murder," Arnold Pistorius, the fallen Olympian's uncle said as he read an emotional statement at his home in Pretoria Saturday.
"We have no doubt there is no substance to the allegation and that the state's own case, including its own forensic evidence, strongly refutes any possibility of a premeditated murder or indeed any murder at all," he added.
Article continues below advertisement
As Radaronline.com reported, the Olympic gold medalist and a well-known double amputee known as the "Blade Runner" for his use of carbon fiber prosthetic blades — was arrested after Steenkamp was found shot four times at his home early Thursday morning, according to police in South Africa.
Pistorius reportedly told police he killed his girlfriend by accident when he thought she was a burglar as she returned to his home early Valentine's Day morning.
The Police Department has said Pistorius is the only suspect in the case.
During a hearing Friday, the superstar athlete reportedly sobbed uncontrollably as prosecutors charged him with premeditated murder.
"Take it easy," Chief Magistrate Desmond Nasir told the distraught Olympic star.
Steenkamp, 29, was an FHM model and a recent contestant on Tropika Island of Treasure 5, a South African reality TV show, according to Britain's Sky News.
The beautiful blonde had reportedly dated Pistorius, 26, for a year.
Pistorius is being held at a police station until his bail hearing Tuesday, although prosecutors are expected to oppose any request for his release.
If convicted of premeditated murder, Pistorious faces an automatic sentence of life in prison.