Oscar Pistorius Gunned-Down Lover Laid To Rest Amid Family's Grief & Tears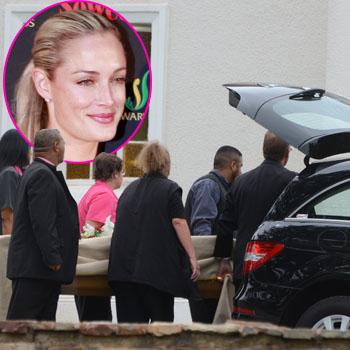 As fallen Olympic sprinter Oscar Pistorius appeared in court on Tuesday adamantly denying he purposely murdered his girlfriend, Reeva Steenkamp, the beautiful law school graduate turned model's family bid an emotional farewell to their loved one at her funeral.
"There's a space missing inside all the people that she knew that can't be filled again," said her brother Adam Steenkamp, as he fought to fight back the tears. "We are going to keep all the positive things that we remember and know about my sister. We will miss her."
Article continues below advertisement
The funeral that was held at the Victoria Park crematorium in Port Elizabeth, South Africa, was attended by more than a hundred mourning relatives and friends who walked somberly behind the 30-year-old's coffin, reported the Guardian.co.uk.
Despite being overcome with emotions, Reeva's uncle, Mike Steenkamp, told reporters after the service that his niece wanted to be an activist for ending abuse against women.
"Unfortunately it has swung right around, but I think that the Lord knows that her statement is more powerful now," he said.
As RadarOnline.com previously reported, while the family were crying over Reeva's coffin, Pistorius, 26, was telling the Pretoria Magistrate's Court how he heard noises in his home on that fateful night, and thinking Steenkamp was in bed, fired a total of four warning shots though the door.
Article continues below advertisement
"I kicked the door open. I tried to help her, but she died in my arms. I fail to understand how I could be charged with murder, let alone premeditated murder because I had no intention to kill. I had no intention to kill my girlfriend Reeva Steenkamp," he claimed.
Outside, protesters expressed their anger at the fallen hero and the deadly crime, which is yet another example of the growing record of violence against women in South Africa, where a woman is raped every four minutes and one is killed every eight hours by her partner or relative, according to the Guardian.co.uk.
Gavin Venter, a former jockey who worked for Steenkamp's father, is now warning the public of the man whom he believes gunned her down in cold blood. "Without a doubt he's a danger to the public," he said of Pistorius.
"He'll be a danger to witnesses. He must stay in jail. He's already shown how dangerous he can be for what he did to Reeva," Venter said, adding that the victim was, "an angel, she was so soft, so innocent. Such a lovely person. It's just sad that this could happen to somebody so good."
As RadarOnline.com previously reported, Pistorius gained international fame as the first-ever double-amputee runner in Olympic competition. Running the 400 and 4×400 relay during the 2012 Olympics, Pistorius finished eighth in both the team and individual competitions.