Detective: Oscar Pistorius Knew Girlfriend Was In Bathroom When He Shot Through Door, Testosterone & Needles Found At Home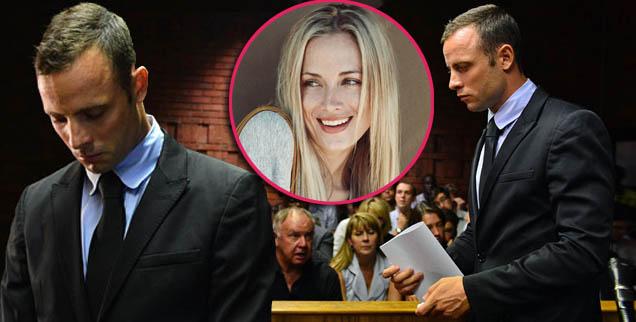 A detective testifying Wednesday in Oscar Pistorius' ongoing bail hearing in the fatal shooting of his model girlfriend Reeva Steenkamp revealed that testosterone was found at the scene of the shooting, and that he believed Pistorius "knew that Reeva was in the bathroom and he shot four shots through the door."
Detective Warrant Officer Hilton Botha, testifying at Pretoria Magistrate's Court in South Africa, also said two boxes of testosterone and needles were recovered from Pistorius' bedroom, though the athlete's attorney claimed all that was found was a legal "herbal remedy" commonly used by athletes.
Article continues below advertisement
Botha, a 24-year police veteran with 16 years as a detective, said that the 26-year-old Olympian -- who claims the shooting was accidental -- has not given any inconsistent statements to investigators regarding last week's shooting, in which the runner has been charged with premeditated murder.
Botha said that forensics evidence show Pistorius shot at the door top down, from a height and about five feet of distance, just a day after the track star testified he'd shot at the door while on his stumps.
The holster of Pistorius' 9 mm pistol was recovered at the side of the bed he claimed Steenkamp was sleeping in, Botha said, which calls into question the athlete's claim he didn't know the 29-year-old beauty was in the bed (and not the bathroom).
Steenkamp absorbed shots to the right side of her head near her ear, as well as her right elbow and hip, Botha said, adding that she sported no defensive wounds.
Article continues below advertisement
Botha said that a witness who heard arguing between the couple was 600 yards from the crime scene. Pistorius -- who didn't have a license for the pistol found at his home -- only told investigators "he thought it was a burglar" in the wake of the shooting, the detective testified.
Watch the video on RadarOnline.com
As we previously reported, Pistorius gained international fame as the first-ever double-amputee runner in Olympic competition. Running the 400 and 4x400 relay during the 2012 Olympics, Pistorius finished eighth in both the team and individual competitions.
A decision on whether to grant Pistorius bail could be made at any time.
|
|