Lead Detective In Oscar Pistorius Case Charged With 7 Counts Of Attempted Murder In 2011 Shooting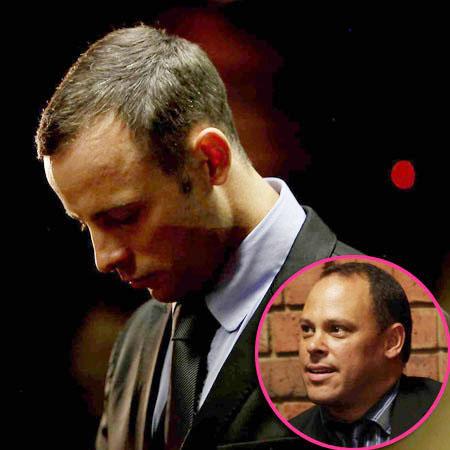 The Oscar Pistorius case took a controversial twist Thursday, as prosecutors said they didn't know the lead investigator in the murder case, Detective Warrant Officer Hilton Botha, faces seven counts of attempted murder charges in connection with the October 2011 shooting of a minibus in South Africa.
Botha, a 24-year police veteran with 16 as a detective, is slated to appear in court this May along with two other police officers in the incident, Police Brig. Neville Malila told the AP. The charges in the minibus shooting were initially dropped in the wake of the incident, Malila said, but officials on Wednesday learned that the Director of Public Prosecutions had reinstated the charges.
Article continues below advertisement
The country's National Prosecuting Authority -- calling the reinstated charges against Botha "totally weird" -- said the detective should be taken off the case, but it's a decision only police can make.
Prosecution spokesman Medupe Simasiku said he was unsure how the detective's status will impact the Pistorius case, a day after Botha testified that authorities recovered two boxes of testosterone, along with needles, from Pistorius' bedroom.
"We can take action and see if we remove him from the investigation or if he stays," Simasiku said.
In the bail hearing, Botha said Pistorius knew that girlfriend Reeva Steenkamp "was in the bathroom, and he shot four shots through the door."
Botha and Pistorius crossed paths in 2009, when Botha investigated accusations of assault against the Olympian.
Watch the video on RadarOnline.com
As we previously reported, Pistorius, who is charged with premeditated murder in the Valentine's Day shooting of girlfriend Reeva Steenkamp, gained international fame as the first-ever double-amputee runner in Olympic competition, garnering the nickname, the "Blade Runner."