Lindsay Lohan Sentenced To 90 Days In Rehab, But Avoids Jail In Plea Deal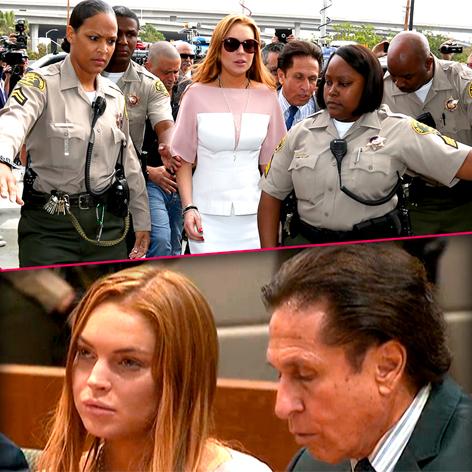 At this rate, we're going to have to start calling her Teflon Lohan!
Lindsay Lohan escaped a bullet — yet again— Monday, after she struck a last minute plea deal to avoid any time behind bars.
As part of the deal -- which saw the troubled 26-year-old plead no contest to three misdemeanor charges of lying to cops -- Lohan will undergo 90 days of rehab in a lock down treatment center, 18 months of psychological counseling and 30 days of community service, which can be carried out in New York where she is currently residing.
Article continues below advertisement
Despite escaping a custodial sentence, Judge James Dabney made sure Lohan understood that she was not getting off lightly — warning the bedraggled looking actress that if she violated one single term of the plea deal, he would immediately, no hesitation, send her to jail for six months.
"I will send you to jail for six months. I will max you out, we won't be having these conversations," Judge Dabney vowed.
The embattled starlet showed up to the first day of her trial, almost an hour late, and appeared to hardly be able to keep herself awake during the proceedings.
Thankfully though, before the Liz & Dick star completely nodded off, her attorney, Mark Heller and prosecutor, Terry White, hunkered down and hashed out the plea deal.
In addition to the rehab, counseling and community service, Lohan agreed to be searched by cops or a probation officer, without a search warrant. She also can't use any drugs or drive with any measurable amount of alcohol or drugs in her system — Judge Dabney advised the actress not to drive at all, although he said she is legally entitled to.
Furthermore, she must surrender to the Santa Monica Police Department in the next seven days to be formally booked, fingerprinted and have yet another mug shot taken to add to her already impressive collection.
Lohan will be on probation for 24 months -- her next hearing is scheduled for May 2 but she won't be required to attend unless she isn't in compliance with the terms laid out in court.