Exclusive
Lindsay Lohan's Community Service Woes Continue: Most Likely Not Going Back To Jail Though; Yet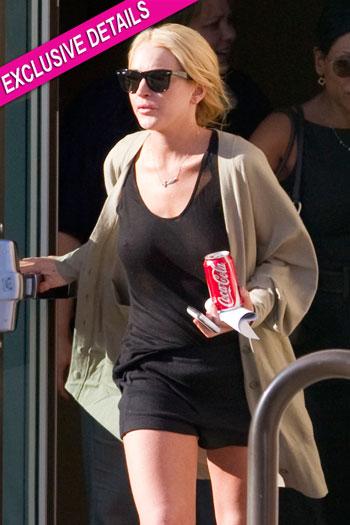 By Jen Heger - RadarOnline.com Legal Editor
Lindsay Lohan's ongoing saga in completing court ordered community service continues, but won't result in the embattled actress being sent to jail, yet, RadarOnline.com is exclusively reporting.
Judge Stephanie Sautner sentenced Lilo to 360 hours of community service at the Downtown Women's Center, and Sautner made it clear that she wanted Lindsay to complete her work at the facility on skid row. Lindsay was ordered to perform an additional 100 hours at the morgue, in connection with her no contest plea in her theft case.
Article continues below advertisement
Lindsay has repeatedly shown up late, or been a no show for her hours at the homeless shelter. The staff had been willing to work with Lindsay's unpredictable schedule, but when a pattern of behavior emerged which showed that the Mean Girls star was just not taking it seriously, and not showing up, she was given the boot.
"Lindsay is going to blame this on the paparazzi, again, like she always does. Her excuse to staffers at DWC was that she was being hounded by the press, and just couldn't make it out of the car, and into the building. Yes, there were photographers around when she did show up, but it wasn't intrusive, and didn't impeed upon anyone's ability to maneuver in or out of the building," a source close to the situation tells RadarOnline.com.
Meanwhile, Lindsay is scheduled to be in court on Wednesday, October 19, 2011, but it's highly unlikely that Judge Sautner will send her to jail, because the starlet has a full year to complete her community service obligations.
"Lindsay has a full year to complete the terms of her probation. Judge Sautner did make it very clear, she wouldn't accept any excuses for it not being completed on time. Lindsay has until mid-summer 2012 to complete the 460 hours. Judge Sautner is most likely going to be extremely upset that Lindsay has been kicked out of the DWC. Lindsay has only completed around 60 hours in total of her 460 hours. It's anticipated that Sautner will again issue stern warnings, and tell her no excuses will be accepted," the insider tells RadarOnline.com.