Exclusive
Lindsay Lohan Ignoring Advisers Telling Her To Do Community Service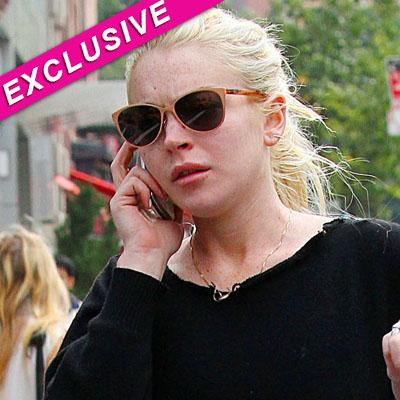 Lindsay Lohan has been keeping herself busy attending New York fashion week and getting ready to jet off to Milan to shoot an ad campaign, but the starlet's advisers are telling her to prioritize, buckle down and put in much needed hours to complete her court ordered community service, RadarOnline.com is exclusively reporting.
However, the Mean Girls star, 25, is ignoring their advice, so far. Lindsay was ordered to complete a whopping 480 hours of community service in connection with her no contest plea in her misdemeanor theft case.
Article continues below advertisement
Lindsay's next court date, which she was previously ordered to attend, is on October 17, 2011 for a progress report hearing. Los Angeles Judge Stephanie Sautner ordered Lindsay to 380 hours of community service at the Downtown Women's Center, and 100 hours at the Los Angeles County Morgue.
"Lindsay has completed about 60 hours at the Downtown Women's Center. Lindsay hasn't done any time at the morgue," a source close to the situation tells RadarOnline.com. "Lindsay has completed her shoplifters awareness class b ut is falling behind on her other commitments.
"Lindsay's team is telling her she needs to log significant time to show the judge that she is working towards completing her hours, but she is ignoring them. Lindsay's rationale is that she has a year to complete the service, so she isn't concerned about it right now."
Lindsay's team has a good reason to be concerned given her track record of complying with terms of probation. "The judge has told Lindsay in the past that she will not accept any excuses whatsoever for her failure to complete her community service, period. If Lindsay was smart, she would work to get those hours done," the insider says.
MORE ON:
Celebrity Justice
Article continues below advertisement
Lindsay publicist, Steve Honig, tells RadarOnline.com that his client has been working hard to juggle her work and community service demands. "Lindsay has been working very closely with her advisors to balance the demands of making a living while at the same time fulfilling her court-mandated obligations,"he says.
Meanwhile, Lindsay father, Michael Lohan, says he has concerns. "While she is beautiful I am concerned about her community service at hand. Her lawyers and I have done all we can to keep her out of jail and the last thing in the world I want to see is her to get violated," he tells RadarOnline.com. " I just want to see her back where she was at the best part of her life. The only way she will accomplish that is if we as a family put our differences aside and heal these wounds. This is not something a band aid can fix."