Super Skinny Heiress & Fashion Icon Daphne Guinness: 'I'll Eat When I'm Dead'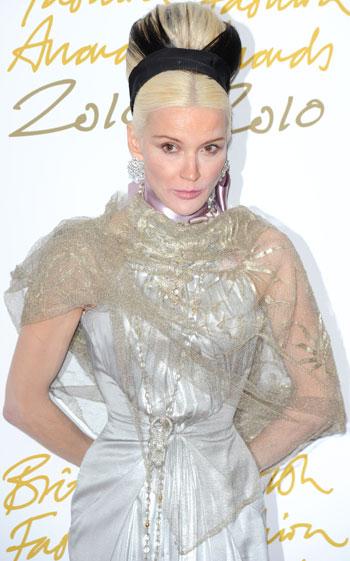 By Leah Ornstein - Radar Style & Beauty Editor
It's time for Kate Moss to step down as the queen of controversial anti-eating catch phrases!
In a recent interview with New Yorker Magazine style icon and international heiress Daphne Guinness, whose couture is currently on display at the Fashion Institute of Technology in New York City, has revealed her stay skinny mantra – and it is sure to shock eating disorder groups.
Article continues below advertisement
"I'll eat when I'm dead!" the startling thin and pale-faced fashionista exclaimed when offered lunch during her photo shoot with the magazine.
According to the publication, the 43-year-old Brit, who is the daughter of brewing heir Jonathan Guinness and the ex-wife of Spyros Niarchos, keeps her stick-thin figure through a diet of Red Bull and Ensure shakes.
She defended her diet by simply stating, "If I eat, I can't work."