Lindsay Lohan Hurls Glass At One Photographer & Throws Drink On Another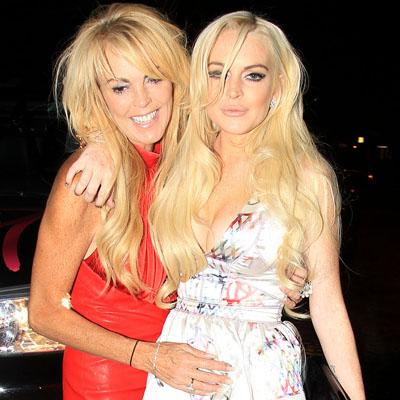 Lindsay Lohan reverted to her wild party girl days on Wednesday night when she reportedly hurled a glass at a photographer who was trying to take her picture and then threw a drink on another snapper later in the evening.
The first incident happened at the Top of the Standard hotel during the V magazine party in the Boom Boom Room, according to The NY Post.
She reportedly threw a drink at an assigned photographer who was trying to take a picture.
Article continues below advertisement
The photographer, Jaspin Rischen, later took to Twitter to voice his disgust at the actress's behavior.
"Wow. Lindsay Lohan is as trashy as they always say," he wrote. "She threw drinks and glasses to me as we tried to take a shot for @vmagazine. bleep"
However a representative for the Mean Girls star, 25, says the incident did not happen.
"Lindsay did not throw anything at anyone, plain and simple. Making up stories about Lindsay has become a pastime for many people," the statement said.
But soon after Lindsay apparently threw her drink, the event turned into a bloodfest after a fellow reveler fell and cut her arm on broken glass.
Eyewitnesses told the Post that the woman fell from a flight of stairs near LiLo's table and as a result her fall caused glass to shatter and she cut herself.
It's not known if the broken glass came from Lindsay's thrown glass).
"There was so much blood spurting, it was like a horror movie," the source said.
MORE ON:
New York Fashion Week
Article continues below advertisement
"The party was packed and blood was spurting onto people's clothes. Paramedics were called, but they took more than 20 minutes to get there, and a friend held the girl's arm to try to stop the bleeding."
The event had a stellar guest list including Usher, Mary-Kate Olsen, Courtney Love, Linda Evangelista, Rose McGowan and Mario Testino.
But this was not the only incident Lindsay is said to have been involved in that night.