Lindsay Strikes A Deal! Lohan Pleads No Contest, Agrees To 90 Days Of Rehab, Psychotherapy & Community Service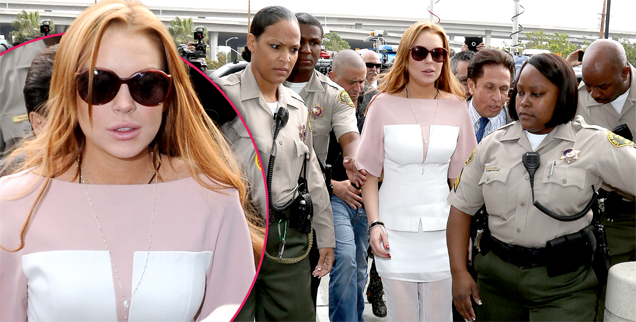 12:00 p.m. PT: As part of the plea deal, Lohan will be going to court ordered lock down rehab for 90 days, undergoing 18 months of psychotherapy and carrying out 30 days of community service.
11:05 a.m. PT: Prosecutors & Lindsay's attorney Mark Heller are trying to reach a last minute plea deal for the troubled starlet.
9:35 a.m. PT: The District Attorney and Lindsay's attorney Mark Heller are now in Judge Dabney's chambers. Lindsay is sitting at the counsel table, and her eyes are red. Prosecutor Terry White look 'livid.'
Article continues below advertisement
9:28 a.m. PT: Someone threw glitter all over Lindsay as she walked into the courthouse Monday morning. She kept walking and barely acknowledged it.
9:18 a.m. PT: Lindsay has FINALLY arrived to court – more than 45 minutes late!
8:55 a.m. PT: Lindsay landed at LAX five minutes ago.
8:50 a.m. PT: Michael Lohan is in court. The judge is not on the bench. Still NO sign of Lindsay!
8:35 a.m. PT: Lindsay's attorney Mark Heller just drove away from the courthouse.
8:30 a.m. PT: Lindsay's attorney Mark Heller has shown up for court; there's no sign of Lindsay. She's officially late!
8:15 a.m. PT: ET reports that Lindsay's plane has been diverted to LAX in an attempt to get her to the courthouse on time for her trial. Her plane was originally scheduled to land at 8:15 a.m. PT at Van Nuys airport, but LAX is closer to the courthouse.
***
Lindsay Lohan is back in court Monday in Del Aire, California for her 'lying to cops' case involving a traffic accident in Santa Monica, CA. last summer, and RadarOnline.com is live streaming her trial, set to begin at approximately 8:30 a.m. PT./11:30 a.m. ET.
Article continues below advertisement
The troubled starlet nearly didn't make the hearing -- she missed her red-eye flight from New York to L.A. overnight, but managed to fly back to Southern California via a friend's private jet.
In court Monday, she'll be accompanied by her New York-based lawyer, Mark Heller, and as RadarOnline.com previously reported, if Heller attempts to get her trial delayed, the judge in the case is expected to deny it.
Lohan faces one misdemeanor count each of reckless driving, providing false information to an officer and willfully resisting, obstructing or delaying an officer.
There had been talk of a possible plea deal, but none was forthcoming over the last few weeks.
Lindsay could face significant jail time if the judge determines that her actions violated the terms of her probation from her 2011 necklace theft case.