Deny, Deny, Deny! Lindsay Lohan Claims Night Club Visit Was Mistaken Identity, Vows 'That Was NOT Me!'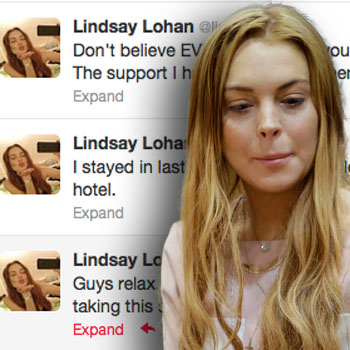 Sound familiar?
After being slammed by the public and even her own father, after allegedly being caught on camera heading for a night out on the town Monday -- just hours after her latest court appearance where she was ordered to undergo rehab -- Lindsay Lohan has claimed it's all just a case of mistaken identity!
"Guys relax, that was NOT me at A/V or in the @mrpink SUV. I'm taking this seriously and focused on the road ahead," the troubled 26-year-old tweeted Tuesday in the wake of the bitter backlash. "I stayed in last night, after a pretty long day...and ordered sushi to my hotel.
Article continues below advertisement
"Don't believe EVERY little thing you hear, unless you hear it from me," wrote Lindsay -- who has historically had a well documented, conflicted, relationship with the truth -- including Monday's no contest plea on charges of LYING to the cops!
So, this being far from the first time that Lohan has lied to get out of a sticky situation, many Twitter followers were naturally skeptical of the starlet's adamant claim of spending a quiet night in – especially as she was reportedly snapped cowering under a blanket in the backseat of an Escalade owned by her billionaire benefactor buddy, Mr. Pink just hours after landing in LA on his private jet!
"Thanks Mr. Pink for the private jet see you all in a few hours in LA," the wayward actress tweeted Monday morning before jetting out of New York for her early morning court appearance in California, which she still ended up being 48 minutes late for.
As RadarOnline.com previously reported, the disheveled and bedraggled looking star narrowly dodged going to prison yet again and instead was sentenced to 90 days inpatient rehab treatment — after, a source claims, she refused a 30-day house arrest deal because she didn't want to wear a drug and alcohol monitoring SCRAM bracelet.