Lindsay Lohan's Billionaire Buddy – The Story Behind Her Starry-Eyed Savior Mr. Pink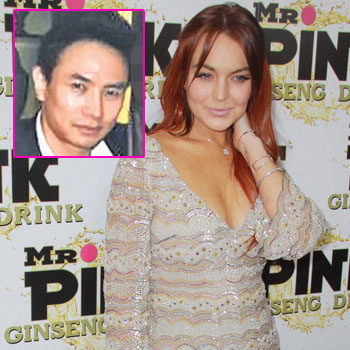 Article continues below advertisement
It's also the official title of a ginseng drink which is only for sale in California and purportedly operated by Monterey Park resident Poe Qui Ying Wangsuo; he previously paid the Mean Girls star more than $75,000 to appear at a promotional party in Beverly Hills, sources told the website.
"He spent half a million dollars for the party, and $3 million to date to launch Mr Pink, and it's only available in California. They just want to go out and party."
Wangsuo enjoys rubbing shoulders with celebs, insiders said, and the product gives him a platform to mingle with the rich and famous.
"It's a vanity product -- it's not meant to be a success," a source told the website. "Wangsuo has $2.7 billion. He wants to party and be with celebrities."
Wangsuo donated more than $35,000 to President Barack Obama's campaign two years ago, and is romantically linked to a Romanian stunner named Monica Gabor.
Another notable personality involved in the situation is Wangsou's party planner Sheeraz Hasan, who has ties to Tinseltown through the website .
Fun fact: Mr. Pink was the code name for Steve Buscemi's character in Quentin Tarantino's 1994 cult classic, Reservoir Dogs.