Exclusive
Michael Lohan Slams Lindsay's Nightclub Visit, 'Are You Kidding Me?'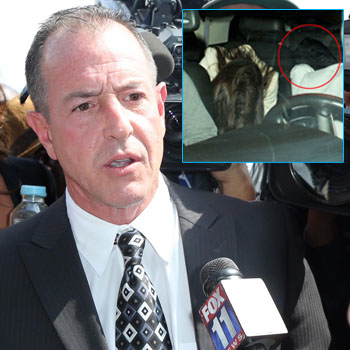 Just hours after being sentenced to 90 days in a lock-down rehab facility Lindsay Lohan tried to go to a Hollywood nightclub and this decision infuriated her father Michael Lohan!
"Are you kidding me?" Papa Lohan ranted exclusively to RadarOnline.com about his troubled 26-year-old daughter hitting up the AV nightclub late Monday night.
"Just when you think things are getting better, the same people who were in court with Lindsay, and heard the judge instruct her NOT to be around people or places that drugs might be present, are the same ones out with her attempting to go into a club last night!"
Article continues below advertisement
Michael was incredulous about the photos showing his daughter hiding in a car outside a nightclub. Lindsay was given 45 days by the judge before she has to check into the rehab center, but her father is doubting the wisdom of that decision and slammed her lawyer Mark Heller and her mother Dina Lohan at the same time.
"Maybe waiting 45 days is too long? I wish she'd let me pick out the rehab NOW (and even pay for it), but then again, Heller and Dina wouldn't approve even if it was the best. Or will they pay?"
Do you think Lindsay is going to be going to more nightclubs before she checks into rehab in 45 days? Tell us in comments.