Exclusive
Kim Kardashian Slammed By PETA For 'Setting A Blatantly Cruel Example' To Her Unborn Child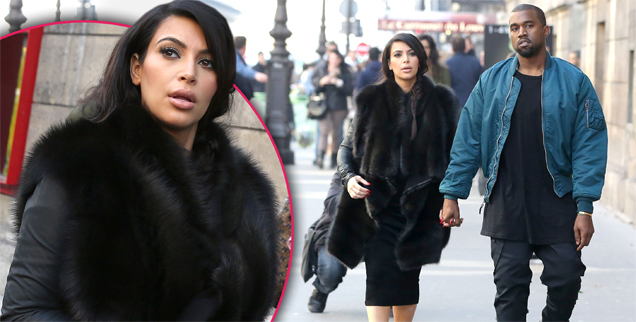 Article continues below advertisement
"Children of greedy, self-absorbed parents could follow their lead or they could break away and be alienated from and disgusted by them," PETA spokesperson Wendy Wegner told RadarOnline.com when asked if the reality star's obsession with fur could be passed down as easily to her offspring as her curvaceous physical assets and famous big butt!
"Kim is a commodity; she is paid to wear things like fur, a particular makeup, or to shake hands with dictators, so she is not a good example to a child or anyone else of how to show a social conscience," Wegner fumed.
"Thankfully, this child will be growing up in a time when most people know how blatantly cruel it is to buy a coat made from someone else's skin, so there is hope."
PETA also hopes that the offspring of Kim and her singer beau, Kanye West, follows in their aunt's footsteps rather than those of their parents.
"Youngsters naturally identify and empathize with animals - so even though Kim and Kanye will undoubtedly serve as poor examples when it comes to kindness toward animals, perhaps their child will take after aunt Khloe and choose kindness by rejecting fur."
MORE ON:
Keeping Up With the Kardashians
Article continues below advertisement
As RadarOnline.com previously reported, Kim's little sister, who is married to NBA star Lamar Odom, once posed for PETA's famous 'I'd Rather Go Naked' anti-fur campaign, but pulled her support for the organization after Kim was flour bombed by a activist at a red carpet event while promoting her perfume line last year.
The fur covered baby bump is far from the first time the Keeping Up With The Kardashians star has earned the wrath of the animal rights group. She was compared to evil Disney character Cruella de Ville by PETA in June 2012 after she was spotted strutting around Paris in a pair of thigh-high Christian Louboutin python boots, which retail for $5,495 and are banned in her home state of California.
"They'd go well with a Dalmatian-fur coat, which is also illegal to sell in California and immoral to sell anywhere else," Wegner previously told RadarOnline.com about Kim's choice of footwear.