Exclusive
Lindsay Lohan Turned Down 30 Days House Arrest Deal -- Refused To Wear Drug And Alcohol Testing SCRAM!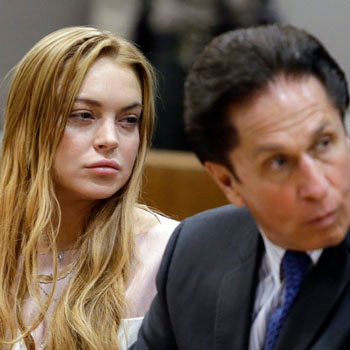 Article continues below advertisement
"Judge Dabney offered the possibility of a 30 day house arrest sentence but insisted that as part of the deal Lindsay would have to wear a SCRAM bracelet which detects any consumption of alcohol or drugs," a source close to the situation tells Radar. "Prosecutors were absolutely stunned Lohan turned down the offer, and chose instead to go to a lock down rehab for 90 days!"
As previously reported, the plea deal that was eventually agreed upon — which saw Lohan plead no contest to two misdemeanor charges of lying to cops – includes the actress undergoing 90 days of rehab in a lock down treatment center, completing 18 months of psychological counseling and serving 30 days of community service, which can be carried out in New York where Lohan is currently residing.
Despite escaping a custodial sentence, Judge James Dabney made sure Lohan understood that she was not getting off lightly — warning the bedraggled looking actress that if she violated one single term of the agreed upon plea deal, he would immediately, no hesitation, send her to jail for six months.
"I will send you to jail for six months. I will max you out, we won't be having these conversations," Judge Dabney vowed.
Something, the source believes, will very likely happen in the near future given Lohan's past behavior.
"It's only a matter of time, like days, until Lindsay violates the terms of the plea deal... guaranteed," the source predicts. "Given Lindsay's history when it comes to the judicial system and her lack of compliance, well, the day is coming when she will be headed to jail for a very, very long time."