EXCLUSIVE: Lindsay Lohan - I Want To Lose My SCRAM Now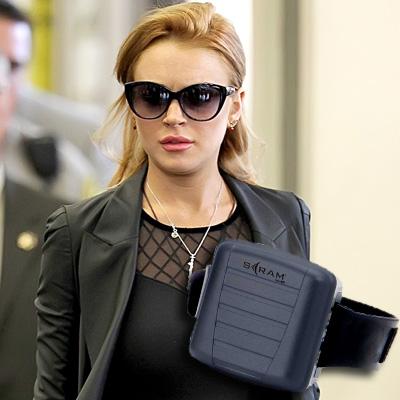 Lindsay Lohan wants to lose her closest confidante - her SCRAM - and pronto.
RadarOnline.com has learned the 24-year-old Mean Girls star is whining about the booze detector that is permanently fixed to her ankle, even though she is living a clean and sober life at the Betty Ford Centre in Rancho Mirage, California.
"Lindsay wants her alcohol monitoring device off - now," a source close to the anxious actress told RadarOnline.com, exclusively.
Article continues below advertisement
"Lindsay is pleading with her lawyer, counselors and anyone who will listen to try and find a way to get the SCRAM device taken off.
"Lindsay complains because it is supposedly very uncomfortable."
The troubled star, who is undergoing her fifth stint in rehab, was fitted with the alcohol-monitoring device within 24 hours of being released from jail, late September.
Lohan, who spent just 13 days of a 90-day jail term in July for violating the probation terms of a 2007 conviction for driving under influence, was sent back to prison after she failed a court-ordered drug test, testing positive for cocaine abuse.
But an appeals court reversed Judge Elden Fox's decision not soon after, on the proviso she got (her third) SCRAM bracelet.
The source told RadarOnline.com, "Lindsay doesn't understand why she has to wear the SCRAM because she voluntarily checked into rehab and she is tested for drugs while being at Betty Ford.
"Judge Schnegg is the one that ordered Lindsay to wear the bracelet after allowing her to post bail, and go against what Judge Fox had ordered.
Article continues below advertisement
"Lindsay will have to wear the bracelet until her next hearing on October 22nd and could be forced to wear it for as long as Judge Fox makes her."
In the past, Lohan had poked fun at her SCRAM.
In this video previewing Underground Comedy 2010, Lohan showcased her comedic side when told she looks like Marilyn Monroe.
The actress then ad-libbed, "Marilyn never had to wear a SCRAM bracelet!"
RELATED STORIES: