Till Death Do Us Part? Inside The Most Infamous Crimes Of Passion In History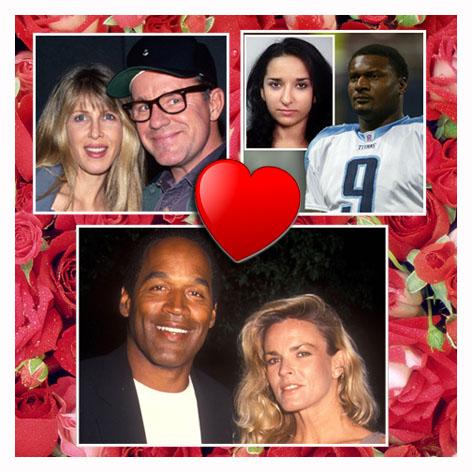 Just like every Valentine's Day, lovebirds across America woke up on Thursday to chocolates, roses and romantic sentiments from their special someone, but along with the whisperings of sweet nothings was the bombshell news of a grisly murder revolving around a seemingly perfect couple.
In the most dramatic crime to occur on February 14 since the Valentine's Day massacre in 1929 between Al Capone and Bugs Marone, Olympic gold medalist Oscar Pistorius - a well-known double amputee dubbed the "Blade Runner" - allegedly murdered his girlfriend Reeva Steenkamp in his South Africa home.
Article continues below advertisement
The quadruple shooting of the beautiful blonde model by her sports hero boyfriend proves there is a fine line between love and hate, prompting RadarOnline.com to look back at the most infamous crimes of passion in history!
1. Our first crime of the heart turned into the trial of the century after NFL star O.J. Simpson allegedly butchered his ex-wife, Nicole Brown Simpson, and her lover Ron Goldman on June 12, 1994. Five days after the bloody bodies were found at Brown's apartment, "The Juice" took cops on a high speed chase in his white Ford Bronco SUV across Los Angeles that entranced TV viewers around the country and even interrupted the NBA Finals. The pursuit, arrest, and trial were among the most widely publicized events in American history, as was the moment when the reportedly jealous ex-husband was acquitted of the double murder, which was watched by half the population in America.
2. Beloved comedian Phil Hartman made Saturday Night Live viewers die laughing in the eight years he starred on the sketch show, making the news of his death at the hands of wife, Brynn Omdahl, in May, 1988 even more devastating. Hartman's third wife and the mother of his two children battled demons from drug and alcohol addictions that finally got the better of her and after a heated argument one night, she walked into her 49-year-old husband's bedroom at 3 a.m., with a .38 caliber handgun and fatally shot him twice in the head and once in his side. Both drunk and high on cocaine, she then drove to a friend's houses and confessed to the killings, but he didn't believe her until they returned to the crime scene. After the police arrived at the family home and took the children away, Brynn locked herself in the bathroom and committed suicide with a single bullet to the head.
Article continues below advertisement
3. John Wayne Bobbit didn't lose his life, but he sacrificed his manhood! The Virginia native was catapulted to infamy when on June 23, 1993, he allegedly came in drunk after a night of partying and raped his wife Lorena, who then marched to the kitchen and instead of getting a glass of water, she grabbed a knife and cut off half her sleeping husband's penis to make sure he never violated her again. The angry wronged wife drove off and threw the butchered member into a field, but she quickly had second thoughts and called 911 to turn herself in. Despite the cringe-inducing nature of her crime, Lorena was ultimately found not guilty after the defense painted a tragic picture of sexual, physical and emotional abuse at the hands of John Wayne. She went on to live a quiet life out of the spotlight, while her ex cashed in on his notoriety in X-rated adult films and reality shows.
MORE ON:
Nicole Brown Simpson
4. Retired Tennessee Titans player Steve McNair was destined for the NFL Hall of Fame before his life was tragically cut short by 20-year-old girlfriend Sahel Kazemi, who shot and killed her married, older lover in 2009 as he napped on the couch of the Nashville condo that he paid for her, and then turned the gun on herself. The murder-suicide was reportedly prompted by McNair's financially strapped mistress suspecting that he was seeing yet another girl on the side and deciding to take his life in an act of deadly revenge. Just days earlier she was arrested for DUI, then after leaving jail bought the 9 mm gun from a convicted murderer she met while looking for a buyer for her Kia.
Article continues below advertisement
5. NASA astronaut Lisa Nowak skyrocketed from a space hero to an amateur criminal in February 2007 when she was charged with attempted kidnapping, burglary, and battery of Colleen Shipman, a woman who was involved with Nowak's love interest, Navy Cmdr. William Oefelein, pilot of the 2006 Discovery flight. The wronged woman packed a "kill kit" – including a drilling hammer, a disguise, latex gloves, plastic bags, a knife and a pistol – and flew to Orlando to stalk her victim. She accosted Shipman in the parking lot with pepper spray but the bungled attack was quickly broken up by police and Nowak was arrested. After two years of legal wrangling and internal investigations from NASA regarding mental screening processes, Nowak finally pleaded guilty to reduced charges in December 2009 and was placed on a year's probation.
6. U.S. Congressman and Union general Daniel Sickles made history not only for the brutal murder of his wife's lover, but also for becoming the first defendant in the U.S. to successfully use the temporary insanity plea as a legal defense. In 1859, right across the street from the White House, Sickles shot and killed the D.A. of the District of Columbia, Philip Barton Key II, for having an affair with his young wife, Teresa, and went on to convince a jury that he was driven mad by her infidelity and driven to commit murder. After his acquittal, he publicly forgave his spouse, which caused more public outrage than the actually crime of passion because they considered her a harlot and an adulteress.