Touchdown! NASA's Curiosity Rover Lands Safely On Mars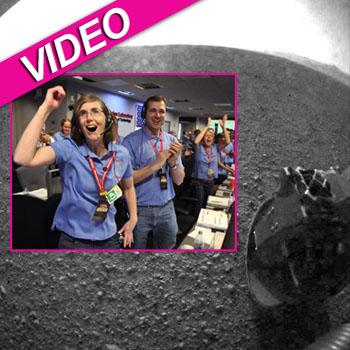 By Debbie Emery - RadarOnline.com Reporter
It was a small step for a machine, but a giant leap for mankind when NASA's Curiosity rover successfully landed on the surface of Mars in the early hours of Monday morning and transmitted the first images from the Red Planet back to Earth.
After traveling for eight months over 352-million miles, the rover plunged through the Martian atmosphere in what is known as the "seven minutes of terror" to make a dramatic touchdown that involved a sky crane and the world's largest supersonic parachute to safely place it on the landing area meticulously chosen by scientists, reported CNN.com.
Article continues below advertisement
Back home on Earth, the mission control in NASA's Jet Propulsion Laboratory in California exploded into celebration when the rover landed, with team members bursting into cheers, hugging, high-fiving, and even shedding some happy tears.
NASA'S $2.5-billion mission involved the work of more than 5,000 people from 37 states, some of whom had worked on the project for 10 years, and their labor did not go unnoticed by the president, who offered a personal message of congratulations to them all.
"The successful landing of Curiosity -- the most sophisticated roving laboratory ever to land on another planet -- marks an unprecedented feat of technology that will stand as a point of national pride far into the future," said President Barack Obama said in a statement.
The aptly-named Curiosity is expected to revolutionize deep-space science, not only searching for indications that Mars is or was habitable, but paving the way for the next critical steps in exploration — soil-sample returns, sending astronauts to Mars, even, perhaps, colonization.
Article continues below advertisement
"I feel like it's a signal that we have the capability to do big and exciting things in the future." said Carol Paty, assistant professor at Georgia Tech's School of Earth and Atmospheric Sciences. "You can't not be excited."
The initial images sent back from Curiosity were grainy black and white shots showing its wheel rested in stony ground in one, and its shadow in another, but larger color images are expected later in the week. The SUV-sized rover has a full suite of sophisticated tools for exploring Mars, including 17 cameras, a laser that can survey the composition of rocks from a distance and instruments that can analyze samples from soil or rocks.
Next stop on its mission to "assess whether Mars ever had an environment able to support small life forms," will be Gale Crater, which may have once contained a lake. After at least a year, the rover will arrive at Mount Sharp, in the center of the crater and then drive up the mountain examining layers of sediment.
Watch the video on RadarOnline.com
Although the sedimentary layers are similar to those in California's Death Valley or in Montana's Glacier National Park, Martian layers have no plate tectonics so Mount Sharp was formed in a different way than how mountains are created on Earth — and no one yet knows how.
Article continues below advertisement
Curiosity is scheduled to be on the Red Planet for two years, but it may stay longer depending on what it discovers. "You take what Mars gives you," explained Steve Squyres, a member of the Mars Science Laboratory science team.
"If we knew what we were going to find, it wouldn't be this much fun."